This article is more than 1 year old
IBM quietly announces Power-powered private cloud in a rack to 'evolve' your apps
Converged infrastructure with an off-ramp from AIX to Red Hat OpenShift and all things cloud-native
IBM has quietly unveiled its "Power Private Cloud Rack solution," a converged infrastructure product that offers an off-ramp from AIX and a path into the wonderful world of cloud-native applications.
Big Blue's announcement today states the new rig requires at least three Power System S922 servers with 20 CPU cores, 256GB of RAM, and 3.2TB of NVMe local storage, plus a FlashSystem 5200 storage enclosure with a minimum of 9.6TB and a pair of SAN24B-6 switches with 24 Fibre Channel ports.
That FlashSystem 5200 is also new, by the way. Our sibling site Blocks and Files details the family's specs and role outside this new Power rig.
Speaking of which, Red Hat Enterprise Linux 8 for POWER9 is required in the Private Cloud Rack Solution, along with IBM's virtualization stack. Red Hat's OpenShift Container Platform and OpenShift Container Storage are included.
IBM will only sell this as a bundle and claims doing so means "traditional eight-week deployment is condensed to eight hours."
Big Blue also hopes the rig will help organizations "evolve" their Power AIX apps by containerizing and integrating them with modern workloads designed to take advantage of cloud platforms and services, aka cloud-native software. Similarly, IBM suggests using this hardware to migrate "i" operating system applications to cloud-native environments.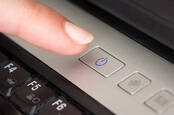 IBM to power down Power-powered virtual private cloud, GPU-accelerated options
READ MORE
It will come as no surprise that IBM's preferred destination for those apps is Red Hat's OpenShift. The venerable biz also reckons this bundle handily beats x86 hardware in terms of the workloads that can be crammed into each server, and in terms of container density per core.
The new offering confirms IBM's intention to use the $34bn acquisition of Red Hat to refresh its core platforms and try to make them as relevant to the cloud-native world as they were in previous times when Power and its associated software stack offered resilience and scale that other architectures struggled to match.
The new bundle will also advance IBM's hybrid cloud cred as OpenShift is widely supported by public clouds.
While IBM does make some greenfield Power sales, it also has a big user base to defend. So while the Power Private Cloud Rack solution is far from alone in the market – Dell, Lenovo, HPE, and Nutanix all offer container-centric converged and/or hyperconverged machines – IBM now has a comparable product that gives current customers the comfort of running an environment they understand and a way to modernize their software fleets.
In December, analyst firm IDC rated the non-x86 server market as responsible for $1.6bn in quarterly revenue, compared to x86 servers' $21bn. But sales of non-x86 kit grew by 10.4 percent, compared to 1.6 for x86 data-center machines. So maybe IBM is onto something here. ®