This article is more than 1 year old
North Korean attacks on crypto exchanges reportedly netted $316m in two years
United Nations sanctions made silly by sloppy security
North Korean attacks on crypto exchanges reportedly netted an estimated $316m in cryptocurrency in 2019 and 2020, according to a report by Japan's Nikkei.
The outlet says it saw that figure in a draft of a United Nations report destined for the desk of the Security Council's North Korea Sanctions Committee.
That Committee's web page lists numerous reports that mention North Korea's interest in acquiring cryptocurrency by illegitimate means. The August 2020 interim report [PDF] by the Panel of Experts that monitors North Korea states: "One Member State reported that [North Korean] attacks against virtual currency exchange houses have produced more illicit proceeds than attacks against financial institutions."
And a 2019 document suggests the rogue nation's hacking activities, including attacks on cryptocurrency exchanges, netted $2b in the preceding five years.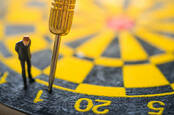 I was targeted by North Korean 0-day hackers using a Visual Studio project, vuln hunter tells El Reg
READ MORE
Evidence of successful attacks on cryptocurrency exchanges is not hard to find. The Register has reported on such events here, here, here, here, and here.
$316m in two years from crypto alone would represent a very decent haul. And seeing as Bitcoin has appreciated by 169 percent in six months at the time of writing, North Korea has its hands on an asset that has appreciated faster than almost any other. The UN is uncertain just how North Korea spends its cryptocurrency or turns it into fiat currency.
But with the likes of PayPal taking cryptocurrency well and truly into the mainstream, North Korea may find it easier to put its purloined cloud cash to work. And much of North Korea's work is truly evil: the 2013 report into North Korea's human rights abuses [PDF] makes for sobering reading. ®
Those abuses are the major reason North Korea faces sanctions on its interactions with the global financial system. It appears, however, that the frontier of financial innovation may be offering the nation a way to work around the world's efforts to rein in its regime. ®
Bootnote: The author owns around $50 of bitcoin. No, make that $47.