This article is more than 1 year old
HPE Spaceborne Computer-2 slips off the shelf – and off the planet: Boxen heading to ISS
Just don't hit that big, red button
Hewlett Packard Enterprise has taken another crack at the ultimate in edge computing with a second launch of hardware to the International Space Station (ISS) in the form of Spaceborne Computer 2.
The first Spaceborne computer launched back in 2017 for a year-long mission aimed at demonstrating that off-the-shelf hardware could weather the rigours of life onboard a space station.
With software taking the place of expensive hardware hardening, the Apollo 40-class system endured for longer than planned, eventually returning to Earth in 2019.
So delighted were engineers with the performance, that a follow-up was ordered. Spaceborne Computer 2 is to spend two to three years squatting in an International Space Station (ISS) rack, running experiments and continuing to demonstrate the possibilities afforded by sticking compute on the final frontier, so to speak.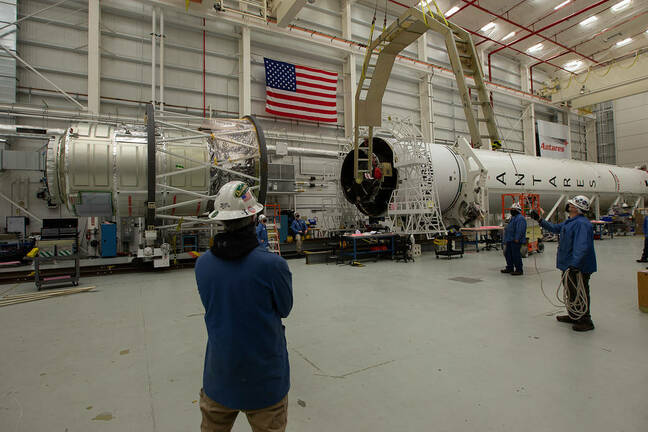 Northrop Grumman staff prepare to mate the company's Cygnus spacecraft with its Antares rocket in the Horizontal Integration Facility at NASA's Wallops Flight Facility in Virginia on Monday this week (Feb 8, 2021). Photo: NASA/Patrick Black
As the recent UAE and China missions to Mars, as well as other deep space probes, have demonstrated, a bit of processing power aboard a spacecraft never goes amiss. Crewed jaunts into the expanse will require extra computing autonomy, particularly where a delay waiting for a response from systems on Earth could have serious consequences.
Spaceborne Computer 2 represents a doubling down in many respects. It will use twice the electrical power and take twice the physical space of its predecessor. Each of the two lockers will be filled with a HPE ProLiant DL360 Gen10 server and an Edgeline EL4000 Converged Edge system. The duplication will give a level of redundancy over the previous incarnation and power will come directly from the ISS's 28V DC supply.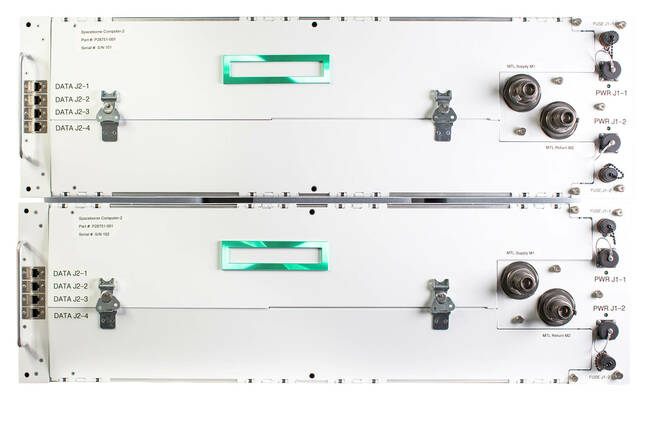 Spaceborne-2: Click to enlarge
The previous Spaceborne computer operated at 120V AC and used inverters to charge it from the ISS. The approach was not too reliable, hence the use of DC this time around.
If you hit the emergency power cut-off switch, it's going to do what it's supposed to do. And we're going to be powered down
Accidental power outages are a different matter altogether, and Principal Investigator for the project Dr Mark Fernandez told The Register: "I can't stop human error," before adding, with a laugh: "If you hit the emergency power cut-off switch, it's going to do what it's supposed to do. And we're going to be powered down."
"Spaceborne Computer-2 comes equipped with 2nd Gen Intel Xeon Scalable processors (Cascade Lake), which is significantly more advanced – 2X faster - than the first system," an HPE spokesperson told The Register. "Spaceborne Computer-1, ran on Intel Broadwell processors. The system was built just before Intel Xeon Scalable processors were made available."
Red Hat 7.8 will be running the show, and HPE's software will deal with the hardware problems thrown up during a lengthy stint in space. The SSDs, which encountered issues last time around, will this time feature configurations including software and hardware RAID. "Many believe," said Fernandez, "that the hardware RAID is gonna get zapped and fail. So we'll see if the software RAID can perform better."
Other hardware improvements include GPUs aimed at image processing and machine learning. Microsoft's Azure Space can also be used to blast the occasional workload into Redmond's cloud, although that does seem slightly at odds with the goal of compute independence. After all, "In space, nobody can hear you scream when you receive cloud provider x's monthly bill..."
HPE is keen to receive proposals for research on the computer once in orbit. It is due to leave the Earth next Saturday - that's 20 February - aboard Northrop Grumman's NG-15 Cygnus freighter, named for NASA mathematician Katherine Johnson. ®