This article is more than 1 year old
India on track for crewed space mission, says first test flight to launch in late 2021
Plans week-long orbital mission, with Chicken Korma already pencilled in on the menu
India's space program will test a vehicle it expects will soon carry a crew into space in December 2021.
Minister of State for Atomic Energy and Space, Dr Jitendra Singh, yesterday provided a written answer to questions posed in the nation's Parliament and said an unmanned flight is planned for December 2021. A second test is planned for an unspecified time in the years 2022 or 2023, followed by what the minister called "human spaceflight demonstration."
India's mission is named "Gaganyaan" and aims to send three astronauts into space atop the GSLV MkIII heavy lift booster that India's Space Research Organisation (ISRO) has successfully used four times, most recently for its partly successful Chandrayaan2 Moon mission in 2019. The GSLV MkIII's first flight, in 2014, tested re-entry of a prototype crew module.
Gaganyaan's current mission plan calls for three astronauts to spend a week in low Earth orbit, where they'll conduct microgravity experiments before splashdown in Indian waters. ISRO has already started work to tweak the GSLV MkIII's boosters for flights carrying humans.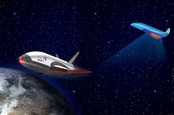 India opens its space industry to private companies
READ MORE
Minister Singh said potential crew have already been selected and are training in Russia. He added that mission elements such as food and water, health monitoring, emergency kits and medical supplies have passed preliminary design review. Indian news outlet The Hindustan Times reports that the mission menu will feature flatbreads, dahl, pickles, and Chicken Korma, among other signature items of Indian cuisine.
The minister's announcement of a late 2021 test flight runs counter to previous reports the initial test had been delayed by the COVID-19 pandemic.
If Gaganyaan succeeds, India will become just the fourth nation to have launched its own crewed spacecraft. Just one Indian citizen has travelled to space. Indian Air Force Rakesh Sharma took that trip on a Russian Soyuz in 1984 and spent a week on the Salyut 7 space station. ®