48-hour strike action: Openreach repayment project engineers confirm it's on
18 months after dispute emerged, techies say enough is enough
---
Exclusive Openreach repayment project engineers (RPE) are set to strike for 48 hours later this month in protest at parent company BT Group's overhaul of the grading structure, the Communication Workers Union has told members.
The team of 170-strong techies was balloted last month by the union, and 120 of the 143 who turned out voted in favour of industrial action. With further negotiations with BT Group so far proving futile, the engineers will down tools for the best part of two days from 24 February.
RPEs divert copper and fibre cables for major property developments or infrastructure builds taking place across the UK. They are called upon when any of BT's network infrastructure needs to be moved, including the high speed rail network HS2 and the regeneration work on Battersea Power Station.
The dispute arose when Openreach changed the RPE role to a "management" member grade, which counter-intuitively means newcomers will get a lower salary, fewer holidays and other reduced terms & conditions, insiders have told The Register.
In a message to members, the Openreach National Team (NT) at CWU said the response from BT Group to last month's ballot result was a "more than disappointing outcome." It said the company is considering running "roundtables" with staff to discuss the issues, however, RPEs we spoke to claimed this was a 12-plus-month dispute.
The CWU added:
Whilst of course the company is entitled to talk to their employees, you must ask yourself after all this time, the outstanding ballot result and the communication sent to you last Thursday [on ballot results], what the real purpose of this exercise may be. This can only be viewed as an attempt to delay any action the CWU is legally entitled to take.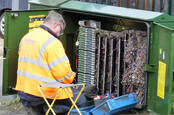 'Massive game-changer for UK altnet industry': BT-owned UK comms backbone Openreach hikes prices on FTTP-linked leased line circuits
READ MORE
"The NT has listened carefully to the views of individual members, as well as the excellent input from your campaign group representatives, and believes that this initial period of strike action is proportionate and will be effective."
RPEs that we spoke to on the condition of anonymity said existing work will stop for two days, including site surveys for new projects. The engineers said they feel they have no other option.
"Nobody wants to lose money," said one. "The CWU is very serious; they will strike and action may escalate."
This action is seen as a testbed by the union, which is gearing up for potential nationwide action across the BT group, over compulsory redundancies, the closure of offices and sites, and a change to Ts&Cs.
BT embarked on a multi-year transformation programme in 2018 that included cutting 13,000 jobs and chopping 90 per cent of its real estate.
The strike action taking place among RPEs - a relatively small corner of Openreach - is seen by the CWU as a yardstick for the wider group, and a precursor to a company-wide national action. The last time BT faced such an outcome was back in 1987, which co-incidentally ended 34 years ago today, a company rep told The Reg.
A spokesperson at Openreach said he did not expect the strike to "impact the quality of the services we provide, or to affect progress on our big investment programmes like the Full Fibre build." He reiterated in a statement that the decision by the CWU to strike was disappointing.
"We're surprised and saddened by the news, having worked closely with the Union for more than a year and a half to try and resolve this specific issue.
"None of the 170 Repayments Project Engineers in question is at risk of losing their job or seeing any deterioration in their pay, terms and conditions. In fact we've offered them all a better-paid, higher grade role within Openreach and we've given a cast-iron guarantee that they can stay on their existing terms and conditions – including an extremely competitive salary of around £45,000 a year – if they choose to.
"This is an area of the business where we're growing and when we recently advertised roles at the new grade internally for promotion, we received hundreds of applications from other engineers."
Updated at 16.03 on 11 February to add:
Since publication, the CWU has issued a press release about the stike action.
Updated at 18.05 on 12 February to add:
BT has revised its statement to say the 170 RPEs have been given the "option to upgrade to the better-paid, higher 'Technical Professional' grade, but we've also given a cast-iron guarantee that they can choose to stay on their existing terms and conditions – which includes an extremely competitive salary of around £45,000 a year. The new grade enables them to remain at this salary plus participate in an incremental bonus scheme." ®