This article is more than 1 year old
UK.gov awards seats on £2bn 'digital outcomes' framework to suppliers – one of which doesn't even have a website
'We cannot guarantee to suppliers any business through this Commercial Agreement'
The UK government has made a £2bn contract award for "Digital Outcomes and Specialists" as part of a one-year framework agreement.
The deals, agreed by the Cabinet Office's Crown Commercial Service, were developed to attract suppliers to "help research, test, design, build, release, iterate, support or retire a digital service," according to a contract award notice.
The government-wide agreements are to be made available to UK public-sector bodies. It is set to last for an initial 12 months with an optional 12-month extension.
The total value of the deals is valued at up to £2bn, but the government was at pains to emphasise this was only an estimate. "We cannot guarantee to suppliers any business through this Commercial Agreement," the contract notice said.
The award has been split into four lots. The winner of the first lot, with a value of £140m, is Browser London, a Shoreditch-based company which claims to be a "specialists in user-led digital experiences, products and apps".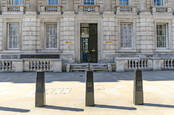 UK.gov shakes hands on cloud agreement with 'non-cloud service provider' HPE
READ MORE
Lot number two goes to Xonetic, a company which claims to "harness digital energy", in a deal currently calculated at £575m. The lot is looking for agile coaches, user researchers, front-end developers, business analysts, designers, and developers among many others.
The third lot has been won by Super User Studio, a digital design agency based in the City of London. For its contract of up to £5m, it should carry out user research to help "inform the development of all government digital services".
Lastly, a company called Users Needs Ltd, based in Nottingham, has won a contract for up to £20m for something called "User Research Participants".
According to the contract notice, that means research to "develop a deep knowledge of who the service users are and what that means for the design of the service" and more. Users Needs Ltd was incorporated in 2018. Most recent accounts recorded a turnover of £42k and it employs one person, director Shila Odedra, seemingly a former lead user researcher at tax collector HMRC. Users Needs Ltd has yet to build a website.
Crown Commercial Services takes a 1 per cent commission on all public sector spending that is routed through the frameworks it organises. ®