This article is more than 1 year old
Better buckle up: Volkswagen puts Microsoft in driver's seat to deliver 'automated' platform
German car giant looks to Azure for AI smarts as Ford opts for Google's cloud
Volkswagen and Microsoft will build an "Automated Driving Platform" powered by AI services on the Azure cloud, according to an announcement from the two giants today.
The German car maker's relationship with Microsoft is not new. In 2018 it said it would create a "new automotive cloud" on Azure that was focused on driver services including media, connection with home and office, and predictive maintenance.
VW is not fully hooked into Azure: in March 2019 it signed a multi-year contract with AWS to run the "Volkswagen Industrial Cloud", which is all about manufacturing processes and logistics, and includes IoT services and AWS Outposts on-premises.
The new agreement remains focused on driving rather than manufacturing, but now extends to an "Automated Driving Platform" – though the extent to which this includes fully driverless vehicles is unclear. There is reference to "advanced driver assistance systems" as well as automated driving so this will be an incremental process towards automated driving rather than the creation of new driverless vehicles.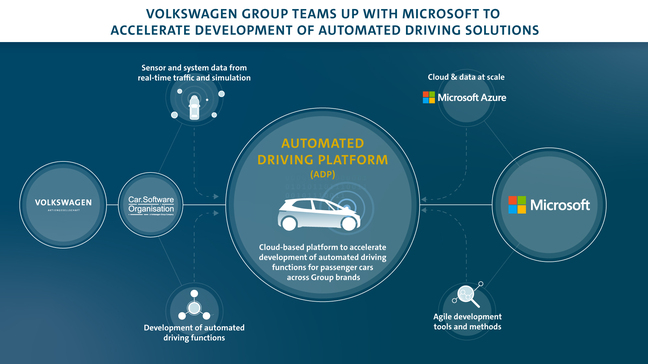 Volkswagen's Automated Driving Platform will be built on Microsoft Azure
Automated driving is all about AI and data, and the release states that "petabytes of data from road and weather conditions to obstacle detection and driver behaviour need to be managed every day for the training, simulation and validation of AD functions." This data will come via "real traffic data from the group's vehicles" so that now a person's vehicle as well as their smartphone will be recording every move – potential buyers may want to check the privacy policy before purchase.
The automotive platform will be developed by Car.Software, a company within the Volkswagen Group. According to today's release, Car.Software has ambitious plans: It is building a new software platform "which includes a unified architecture, an operating system and automotive cloud" to come into use at the end of 2024. The automated driving elements are only part of this solution, with other features including software to link powertrains, chassis and charging technology, as well as "new ecosystems and digital business models." We are not sure what new business models are envisaged, but no doubt marketing folk would love to communicate with drivers during those long hours behind (or possibly beside) the wheel as they do everywhere else.
There are risks inherent both in applying AI to safety-critical activities like driving, and in hooking up devices we depend on to cloud services that may on occasion experience an outage: cloud doorbells not working is annoying but the consequences of a similar outage for automated driving may be more severe.
Volkswagen's news is better for Microsoft than that from Ford, which earlier this month named Google Cloud as its "preferred cloud provider" and said that "beginning in 2023 millions of future Ford and Lincoln vehicles at all price points will be powered by Android, with Google apps and services built-in."
Buyers are advised to check the privacy policy there as well, but also note that Ford built the first two versions of its in-car computer system, Ford Sync, using Windows Embedded Automotive, based on Windows CE, and announced by Bill Gates in his CES keynote in 2007.
Even after Sync failed, Ford and Microsoft announced in 2015 "the creation of the cloud-based Ford Service Delivery Network, powered by Microsoft Azure."
Microsoft's cloud and AI chief, Scott Guthrie, will have been happier with the Volkswagen commitment, and promised that the Azure deal will enable "Volkswagen to deliver secure and reliable automated driving solutions." ®