This article is more than 1 year old
Biden administration pauses pursuit of TikTok and WeChat
Chinese New Year gift for Beijing, maybe for Oracle too
The Biden administration has paused the United States' attempts to run TikTok and WeChat out of the country.
Former US president Donald Trump sought to expel both on grounds that they represent national security risks. TikTok was given an out if it could find a US entity willing to buy the service, then run it and store data on American soil. Oracle and Walmart teamed to do just that.
But lawsuits stopped both apps from being expelled or ceasing stateside operations. TikTok users won cases in which they argued that they made their living with the app, so withdrawing it was restraint of trade. TikTok's parent company ByteDance sued too, successfully arguing that the ban on its app overstepped government authority. WeChat users argued that banning the app was an unreasonable hardship and won.
All the cases were ongoing, with parties required to file updates with the court this week.
The new administration's updates press the pause button.
The filing in the TikTok matter [PDF] says the Biden administration is revisiting whether TikTok really does represent a national security threat and therefore seeks an abeyance of proceedings to give it time to decide on the best court of action. The WeChat filing also requests an abeyance, using near-identical language.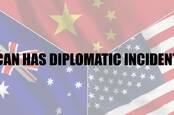 China unleashes fearsome new cyber-weapon: A very provocative meme
READ MORE
Asking the courts to pause the cases means both apps can continue to operate in the US. It also means that Oracle and Walmart are left treading water. Neither appears to have commented on the pause at the time of writing. The Register expects Oracle is displeased as it had hoped to use TikTok as a trophy client that showed of its ability to run securely at scale.
The filings that bring about the pause landed the day before Chinese New Year, an occasion for gift-giving in China and the Chinese diaspora, usually in the form of cash in a red envelope called "Hongbao". News that WeChat and TikTok are under less imminent threat is therefore timely for ByteDance, Tencent, and Beijing.
As it happens, the COVID-19 pandemic has seen actual Hongbao replaced by apps. And among the most prominent of those apps is WeChat Hongbao, which gives users even more reasons to consider sending WeChat messages and using the WeChat Pay. ®