Myanmar's military Junta, which seized power in a coup last week, has drafted new laws that compel local carriers to collect customers' data and make it available to authorities.
Outlets such as the The Financial Times and newswire Reuters that have seen drafts of the bill say it gives the government powers to compel takedowns of content it thinks has the potential to "destroy tranquillity" or represent fake news. Content that threatens Myanmar's sovereignty will also be barred.
The bill also purportedly calls for carriers to store customer data for three years, within Myanmar, and to make it available to authorities on demand. If the bill requires metadata collection, the regime will likely be able to track citizens' locations, call and SMS records, and website visits.
The Register understands that carriers operating in Myanmar have been asked for their thoughts on the bill. None we are aware of have shared those opinions in public.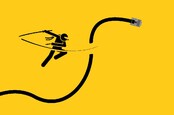 In the old days, coups started by seizing TV and radio stations. Now they crimp the internet at 3am
READ MORE
Mobile carrier Telenor, however, now logs requests it receives from Myanmar's government. At the time of writing, it lists a "Directive to temporarily (but open ended) block IP addresses" received on February 9th, 10th, and 11th.
Big Tech's Asian lobby group, The Asia Internet Coalition, has issued a statement [PDF] in which managing director Jeff Paine says the bill grants "unprecedented power to censor citizens and violate their privacy, contravening democratic norms and fundamental rights guaranteed under international law."
"This would significantly undermine freedom of expression and represents a regressive step after years of progress. We urge the military leaders to consider the potentially devastating consequences of these proposed laws on Myanmar's people and economy."
Sadly, the Junta cares little for democratic norms or privacy.
Facebook, which in 2018 admitted it acted too late to stop the spread of hateful rhetoric that incited violence towards Myanmar's minority Rohingya Muslims, has said it is treating the current situation "as an emergency" and has therefore decided to "significantly reduce the distribution of all content on Facebook Pages and profiles run by the Myanmar Military that have continued to spread misinformation."
Facebook has also "indefinitely suspended" content takedown requests from Myanmar's government agencies.
Which is a decent decision as it will protect content from protestors and opposition groups. But seeing as Myanmar has already cut off access to Facebook within its borders, is of limited help for those living under military rule. ®