This article is more than 1 year old
Amazon sues NY Attorney General in preemptive strike: Web giant faces claim it did not fully protect workers in COVID-19 pandemic
Subsidize public bus service and slow down production? No thanks, says Bezos Bunch
Amazon on Friday sued New York Attorney General Letitia James to prevent her office from bringing legal action that would punish the behemoth computing biz for alleged worker health and safety violations.
The lawsuit follows from a year of rancorous disputes with Amazon warehouse workers who claim the company hasn't done enough to ensure their well-being during the COVID-19 pandemic.
In March, 2020, Amazon fired Chris Smalls, a worker at its Staten Island, New York, warehouse (JFK8) who helped organize a protest over pandemic-related working conditions, for violating social distancing and quarantine rules.
The dismissal of Smalls elicited an objection by James and calls for an investigation by the National Labor Relations Board.
Amazon, known for its aversion to unions, subsequently fired another JFK8 worker, Derrick Palmer, citing similar rule violations.
Palmer is among a group of Amazon workers who sued the company last year claiming that it "has sought to create a facade of compliance" while relying "on purposeful miscommunication with workers, sloppy contact tracing, and the culture of workplace fear" to "maintain productivity while reducing costs." That lawsuit was dismissed in November, 2020.
That same month, Smalls filed a lawsuit against Amazon claiming that the company violated his civil rights.
Amazon's complaint [PDF], filed in federal court in Brooklyn, New York, says that Office of the New York Attorney General ("OAG") has threatened to take legal action to force Amazon to implement workplace changes that the company contends have nothing to do with health and safety and have no factual or legal basis.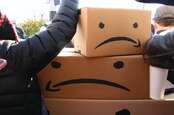 Amazon says it fired a guy for breaking pandemic rules. Same guy who organized a staff protest over a lack of coronavirus protection
READ MORE
"Among other things, the OAG has demanded that Amazon 'disgorge' profits, subsidize public bus service, reduce its production speeds and performance requirements, reinstate Mr. Smalls and pay large sums to Mr. Smalls and Mr. Palmer for 'emotional distress,' retain a health and safety consultant to oversee safety and production, and adopt safety-related policies it already implemented," Amazon's complaint says.
Amazon maintains that the OAG's demands are exorbitant and exceed the standards the OAG has used when defending the COVID-19 response of the New York State Court system. And the biz is aggrieved that the OAG has not recognized its efforts to care for its workers, like $800m spent in the first half of 2020 on COVID-19 safety measures.
That's about 0.2 per cent of Amazon $386bn revenue for 2020.
Amazon is seeking a declaration that federal law preempts the state laws the OAG is trying to enforce and an injunction that bars the OAG from applying state laws.
In a statement, James fired back at Amazon, accusing the company of profiting from workers forced to work in unsafe conditions.
"Throughout this pandemic, Amazon employees have been forced to work in unsafe conditions, all while the company and its CEO made billions off of their backs," said James. "This action by Amazon is nothing more than a sad attempt to distract from the facts and shirk accountability for its failures to protect hardworking employees from a deadly virus." ®