This article is more than 1 year old
No egrets: Ardent twitchers fined for breaking lockdown after bloke spots northern mockingbird in his garden
'Don't give out the location!!'
Everyone has a quirky personal interest or two, but few have pursuits that would move us to drive to Exmouth amid a national lockdown that dishes out fines for non-essential travel.
Who among us is so passionate about their hobby that they'd gladly risk prosecution as the mercury sank below zero earlier this month? It's the Great British Twitcher.
To the untrained eye, Chris Woodward-Biddle's post to Twitter about a bird he spotted in his garden would seem benign. "We think a northern mockingbird, any ideas?" he asked, innocently.
But those familiar with the seedy underbelly of bird-watching knew what to expect.
Don't give out the location!!

— Bob Price (King Kite) (@Roicrabier2017) February 6, 2021
Alas, it appears that "spotted this little chap in our garden in Exmouth" was enough to spur the rabid twitcher hordes into action, despite calls for calm from the local wing of the Royal Society for the Protection of Birds.
To reiterate the comments of others - please do not be tempted to travel beyond your immediate area or for anything other than local daily exercise. Enjoy the photos (thanks Chris) and leave it at that.

— RSPB Exe Estuary & Darts Farm (@RSPBExeEstuary) February 6, 2021
Devon and Cornwall Police told the BBC that five people had to be fined for travelling to the port town in southwest England to catch a glimpse of the bird, thus breaching the current coronavirus lockdown rules.
"It was reported that a number of individuals, suspected to have travelled from outside the area, were trying to photograph a rare bird which had been seen in a garden," the force said in a statement.
UK lockdown fines start at £200 for a first offence. Is the price right for a bird not seen in these parts since the 1980s? We suspect the binocular-toting nerds have no egrets – though they can be sighted in the region.
Joke's on them. To spare you the trouble of going to Exmouth, here's a picture: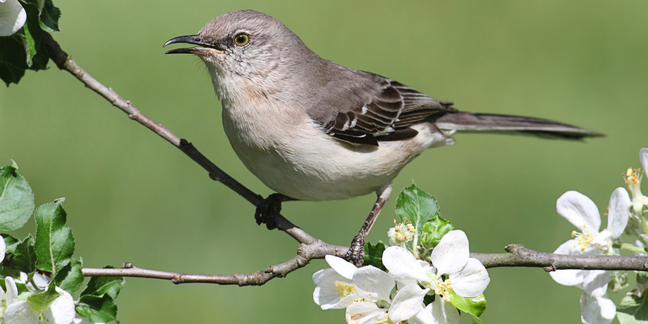 Wow
In the meantime, may we suggest some far more healthy and lockdown-compatible hobbies – like archiving the CIA's declassified UFO records or, more simply, video games. ®