Does a national Digital Intelligence Unit sound a bit sinister? India's new one will co-ordinate action on SMS scams
Maybe it can use the spatial data that India also liberalised yesterday to deliver promise of unplugging rogue operators
India's government has become so tired of SMS scams that it's creating two new national bodies to deal with the problem.
Shri Ravi Shankar Prasad, India's minister for communications, yesterday said the new bodies are needed to create confidence in digital transactions within India.
The minister noted that India's Do Not Disturb registry proves no barrier to both registered and wildcat telemarketers, leading to "rising concern and irritation of consumers over Unsolicited Messages on mobile phones, repeated harassment through SMS" and "fraudulent loan transactions."
India's response has several elements.
For starters, the nation plans a portal and app so that customers can report scams. The new Digital Intelligence Unit will have the job of co-ordinating with carriers, financial institutions, and law enforcement agencies to investigate "fraudulent activity involving telecom resources."
A "Telecom Analytics for Fraud Management and Consumer Protection" system will also be created to make sure that telecoms licence-holders are playing their part.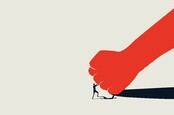 India lifts 550-day Kashmir internet ban, tries to impose new Twitter ban
READ MORE
The above will be backed by legislation that will allow authorities to fine telemarketers, or even disconnect them from networks for repeated violations.
As India's authorities seek out rogue marketers, they'll be able to use more geospatial data gathered by the nation's government as India yesterday liberalised use of such information.
A new set of guidelines [PDF] from the Department of Science and Technology states that all geospatial data created using public funds, other than classified information, "shall be made easily accessible for scientific, economic and developmental purposes to all Indian Entities and without any restrictions on their use."
Access will be free to government agencies and offered at "fair and transparent pricing" to other entities.
Data with resolution of one metre will be permitted, and three metres for elevation. But foreign users of the data will only be allowed to work at that resolution or better if they store data in India for customers within India. Exporting more detailed data will be restricted.
The policy also calls for crowdsourcing spatial data, an effort it is hoped will reduce India's reliance on foreign data sources and again expresses the nation's ambition to become more self-reliant in many technologies and associated fields.
Prime Minister Narendra Modi has pitched the policy as both an example of deregulation and likely to improve the lot of India's farmers. Modi is not popular with farmers at the moment as his plans to reform wholesale markets for produce have sparked mass protests India's government has attempted to quell with tactics including internet blackouts. ®