This article is more than 1 year old
Virgin Media adds 200% to its new broadband contracts in 2020, slips back in black (just)
But the growth can't last forever...
The pandemic has been relatively kind to the UK arm of Virgin Media, which reported [PDF] growth in its broadband and contract mobile business units during 2020.
With the nation sternly instructed to remain home, the TV and telecoms provider said it saw the number of new home broadband subscribers rise by 200 per cent to 148,000 for the year ending 31 December 2020. Postpaid mobile also added 330,000 new contracts during calendar 2020.
In total, VM now has 5.42 million UK broadband subscribers, up from 5.27 million in the previous year. Curiously, well over a third of its new additions (55,000) came during the last quarter of 2020.
Virgin Media didn't give a reason for this, although you may assume the numbers are skewed due to the temporary halt of in-person installations during the early months of the pandemic. The second lockdown in November 2020 and third lockdown in the new year likely drove demand thanks to the ongoing trend for remote working and online home-schooling.
With the nation's bums firmly affixed to its collective sofa, Virgin Media's network was under increased strain, with downstream traffic up 23 per cent on average, representing an extra 2.8GB per person a day. There was also a sizeable bump in upstream traffic of 64 per cent, although the telco's annual report didn't specify further. These figures were largely in line with Ofcom's Communications Market Report last year, which noted a 30 per cent increase in data consumption during 2020 to an average of 315GB.
As with Openreach, Virgin Media is extending the reach of its network, rolling out its gigabit-capable DOCSIS 3.1 connections to more places. This effort, dubbed Project Lightning, started in 2015 and has since added 2.5 million premises, with 426,000 added during the last year.
Separately, Virgin Media is upgrading its existing network, with 46 per cent (7.1 million) of its UK customers' premises able to access a gigabit connection. As previously reported, the telco expanded its gigabit-capable network to the entirety of London and Northern Ireland during Q3 of last year, representing 3 million premises.
The firm reiterated its intent to extend gigabit connectivity to its entire network by the end of next year, which it said will account for nearly two-thirds of the government's target of 85 per cent coverage by 2025.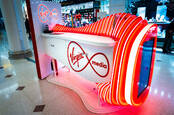 O2 be a fly on the wall during BT and Vodafone's video calls: Telefónica's UK biz, Virgin Media officially merge
READ MORE
This eclipses Openreach, which has roughly 4 million premises wired up to its gigabit-capable FTTP network, although this isn't necessarily a fair comparison given the BT subsidiary's extensive legacy network and vastly wider network catchment.
Despite those rosy figures, Virgin Media reported slightly lower annual revenues of £5.12bn, down 0.8 per cent on fy2019. Q4 revenue fell 0.4 per cent to £1.33bn. This was attributed to a combination of the fallout from COVID-19; lower cable revenue; and lower out-of-bundle mobile usage, with a sharp drop in roaming usage a major factor. Virgin Media returned to profitability for the year, eking out £39m versus a net loss of £337m in 2019.
Still, the company has some difficult days ahead. The prospect of a return to normality by the end of the year could soften demand for its high-end broadband and paid TV projects. Meanwhile, its proposed merger with Telefónica's O2 faces scrutiny from the UK's competition watchdog over fears it may harm rival mobile providers. ®