Facebook bans sharing of news in Australia – starting now – rather than submit to pay-for-news-plan
As News Corp and Google strike global news payments deal and bill passes lower house
Analysis + Update Facebook has barred the sharing of news articles in Australia, effectively immediately, because it thinks Australia's pay-for-news plan is unworkable.
That plan, embodied in the News Media Bargaining Code, passed the lower house of Australia's parliament yesterday. Passage through the Senate and into law is all-but-assured.
The Code has been praised by none other than Rupert Murdoch's News Corporation, which overnight announced "an historic multi-year partnership with Google to provide trusted journalism from its news sites around the world in return for significant payments by Google."
News Corp's deal will see content pass beyond the paywalls of The Wall Street Journal, Barron's, MarketWatch, the New York Post, The Times, The Sun, and Murdoch's flagship antipodean broadsheet The Australian, and into Google's News app and Discovery service.
The company's announcement thanks Australia's regulators and politicians for pursuing a law that News clearly thinks brought Google to the table.
"I would like to thank Sundar Pichai and his team at Google who have shown a thoughtful commitment to journalism that will resonate in every country," said News CEO Robert Thomson.
Zuck on the other hand...
Facebook explained its decision by saying Australia's plan "fundamentally misunderstands the relationship between our platform and publishers who use it to share news content."
"This legislation sets a precedent where the government decides who enters into these news content agreements, and ultimately, how much the party that already receives value from the free service gets paid," wrote Will Easton, The Social Network™'s managing director for Australia and New Zealand.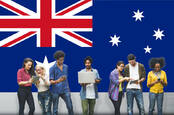 Microsoft tells Biden administration to adopt Australia's pay-for-news plan
READ MORE
"It has left us facing a stark choice: attempt to comply with a law that ignores the realities of this relationship, or stop allowing news content on our services in Australia. With a heavy heart, we are choosing the latter."
Perhaps not that heavy, however, because Easton's post says news makes up "less than four per cent" of the stuff Facebook users see in their feeds.
Facebook's ban also looks to have workarounds.
Your correspondent attempted to post an item from the sport section of my hometown's quality daily, The Sydney Morning Herald. Facebook produced this result:
The story in question concerns a footballer in Australia's National Rugby League who has been very naughty. When your humble hack posted a story on the same player and the same indiscretions from nrl.com, the League's own webpage-cum-news service, it sailed through onto Facebook.
Australians who want to share news will just need to figure out which sites Facebook forbids and which it permits.
Which may be the point of Facebook's actions, as Easton says publishers derive over AU$400m (US$310m) of value from links shared on the network. The Social Network™ will be showing them what they're missing every day.
Facebook's ban also extends to publishers beyond Australia, who can share their stuff on Facebook but won't see their links appear in the land down under. The Register's tests of that aspect of the ban saw stories from The New Yorker, Singapore's Straits Times and The Times of India blocked, but a New York Times page allowed.
Banned publishers' Facebook pages remain, but without any posts. The ban has, ironically, seen Facebook's own news page banned, along those of sites that publish satirical news.
Analysis: A strange success
When the News Media Bargaining Code becomes law next week, it will probably be redundant because it is invoked when the nation's Treasurer names a web company as required to negotiate payments with Australian news publishers.
By excluding Australian news from its platform, Facebook presumably believes it can't be forced to the negotiating table.
Publishers don't need talks with Google now that they've struck direct deals with the company. Australia's government has therefore stared down Google and won. Ministers can rightly claim to have extracted concessions from Google that it previously did not cede.
The government also wins because the News Corp/Google deal means more Australians will be able to freely access content that accords with the government's centre-right position and seldom fails to be critical of Australia's centre-left opposition. That's a win for the government's messaging.
But it is also likely to strengthen News Corp's influence. And as Australia's dominant news publisher, News Corp already has plenty of influence already.
But it's far from certain the government's policy goal of funding more public interest journalism will come about. While Google's deal means more content of all stripes will emerge from behind paywalls, there's no mechanism to force publishers to spend Google's money on anything in particular. Local publishers have already been non-committal about how they'll use the money. And the deals won't stop Google and Facebook continuing to dominate the market for online advertising in ways that continue to hurt publishers.
That Facebook has chosen to walk away also reduces the chances of improved funding for public interest journalism, both by ensuring no Zuck-bucks reach Australian publishers and because little or no news produced in rigorous newsrooms will now reaches Australia's 14-million daily Facebook users.
And those users, like Facebook users everywhere, don't find it hard to encounter outrageous or misleading content.
Ironically, Facebook Australia last week suspended a member of parliament's posting privileges after he shared Coronavirus-related misinformation. The MP in question also shares climate change denial material and content that uses the same language as QAnon and similar conspiracy-fueled groups.
Australians will have to trust Facebook's plan to stop that kind of stuff. Even though that plan has previously failed, again and again. ®
Updated to add at 0230 GMT, February 18
Facebook's implementation of its ban has been revealed as ham-fisted, as the Oz government's Health Department websites were barred along with stories from the Australian Broadcasting Corporation, which as a national public broadcaster has a role publishing information during emergencies. Facebook's own Facebook page was blocked by Facebook.
Australia's opposition leader was quick to sink a boot into both Facebook and the government for the errors, which Facebook says it is working to fix.
During a global pandemic, Australians can't access state health departments on Facebook. On a day of flood and fire warnings in Queensland and WA, Australians can't access the Bureau of Meteorology on Facebook.

The Morrison Government needs to fix this today.

— Anthony Albanese (@AlboMP) February 17, 2021
(The Register is not eligible for payments under Australia's plan. We report this story as it is of global import.)