This article is more than 1 year old
New York AG sues Amazon for putting 'profit over people' when it comes to COVID-19
State legal filing answers Amazon's preemptive federal lawsuit last week
Five days after Amazon filed a federal lawsuit against New York Attorney General Letitia James to preempt anticipated state legal action, James has answered with a complaint against the e-commerce giant alleging labor law violations.
James's filing on Wednesday in the State of New York's Supreme Court alleges that Amazon failed to take adequate health and safety measures to protect workers at its warehouses in the US state, and retaliated against employees who protested working conditions during the onset of the COVID-19 pandemic.
"While Amazon and its CEO made billions during this crisis, hardworking employees were forced to endure unsafe conditions and were retaliated against for rightfully voicing these concerns," said Attorney General James in a statement. "Since the pandemic began, it is clear that Amazon has valued profit over people and has failed to ensure the health and safety of its workers."
The complaint [PDF] contends that Amazon has persistently failed to meet its worker health and safety obligations at two New York City facilities – Staten Island fulfillment center JFK8 and Queens delivery and sorting facility DBK1.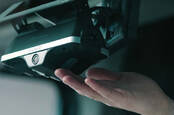 Amazon deploys AI cameras inside delivery vans, misspells 'surveillance' as 'safety' in reason why
READ MORE
It claims Amazon: failed to comply with cleaning and disinfection requirements when COVID-infected workers had been present in facilities; failed to adequately identify and notify employees who may have come into contact with infected workers; and failed to adjust its discipline and productivity expectations to allow workers the time required to conduct themselves safely.
James's sueball paints Amazon as an algorithmic tyrant that chose not to alter the automated systems and metrics it uses to push workers to be more productive amid the pandemic. The internet giant, it's claimed, measures productivity and time-off-task ("TOT") to evaluate how its workers perform.
"Amazon uses the scanners to measure and record each worker's productivity in terms of work units completed per hour," the filing says. "Based on these rates, employees may be subject to adverse consequences, including automatically-generated discipline, while those whose productivity exceeds a target rate may receive positive feedback."
The complaint claims employees know that if they take time to clean their workstations or take a break to wash their hands, any time lost will be counted against them by Amazon's scanners, leading to potential disciplinary action.
Underhand tactics claimed
The legal filing also makes reference to the late March 2020 firing of Christian Smalls and early April warning notice given to Derrick Palmer as examples of retaliation against workers who spoke out.
"Amazon's actions against these visible critics who advocated for Amazon to fully comply with legal health requirements sent a chilling message to other Amazon employees," the complaint says.
Amazon's lawsuit last week argues that the Office of the New York Attorney General "lacks legal authority to regulate workplace safety responses to COVID-19 or claims of retaliation against workers who protest working conditions." Such matters, Amazon insists, are regulated by the federal Occupational Safety and Health Act of 1970 and the National Labor Relations Board.
In an email to The Register, Amazon spokesperson Kelly Nantel disputed the accuracy of James's lawsuit, echoing claims made in the company's federal lawsuit about the lengths to which the company has gone to ensure worker health and safety.
"We care deeply about the health and safety of our employees, as demonstrated in our filing last week, and we don't believe the Attorney General's filing presents an accurate picture of Amazon's industry-leading response to the pandemic," said Nantel.
Amazon now has 20 days to respond, which may involve asking to have James's case moved to federal court. James likewise has to respond to Amazon's complaint, which may involve a motion to have the case dismissed or allowing the case to move forward in federal court. ®