This article is more than 1 year old
The kids are all right... for Google: Web giant talks up 40 new Chromebook models, school-focused ChromeOS
Mountain View sees your kids at home this year, with its devices in their laps
The PC industry is expected to release 40 new Chromebook models this year, according to Google. This is almost certainly driven by sky-high demand for the basic computing devices, which are especially popular in classrooms home schooling.
For context, Chromium.org lists just 20 new Chromebook releases during 2020. During 2019, 39 new releases were listed, although may of these were effectively different permutations of the same device, with only minor differences in terms of processor used, etc.
Google said it plans to issue a major overhaul of Chrome OS in March, with the main focus on education users. Users will be able to natively record their screens without having to rely on a third-party plugin, such as Screencastify. Parental controls will be a focus, allowing students to link their personal accounts (which may have restrictions on usage) to their education workspace. Separately, the Chocolate Factory said is launching an admin console designed for the speedy provision and management of new Chromebook devices.
This follows an earlier promise made by Google in 2020 to provide new Chromebook devices with at least eight years of software updates. Support was previously something of a mixed bag, with machines typically getting between five and six years of updates.
While you can use a Chromebook after its EOL point, security patches and site compatibility will be a major concern (although this can be minimised somewhat by using Linux in a chroot environment, like Crouton). You may also encounter issues using Android apps, should they require a newer version of the Android API than the one supported on your particular device.
As previously noted, 2020 was a bumper year for Chromebook sales, with pent-up demand from personal and education customers sending the segment soaring past the Mac. In terms of purchasing activity, it is now the second-largest traditional computing category.
Analyst data bears this out, with Canalys reporting 287 per cent year-on-year growth during Q4 2020, with shipments hitting 11.2 million.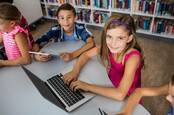 Tablets and Chromebooks are hot, towers and desktops are not: El Reg combs through Q3 PC numbers
READ MORE
Performance across vendors varied, with Acer's ascent proving to be the slowest, with a "mere" 76 per cent increase in shipments to 1.4 million. The fastest-growing vendor was Lenovo, with Canalys reporting shipments of 2.8 million versus just 200,000 a year earlier. HP stayed on top with 3.5 million units sold into the channel, up 32 per cent.
The question remains whether this momentum can be sustained. Although Chromebooks have made leaps in terms of functionality, they're still vastly more restrictive than a traditional PC*, and invariably come with weaker hardware. With the prospect of a return to normality by the end of the year, there's a genuine prospect that the demand driven by widespread homeschooling will sow.
Taper off, but not extinguish. Google's March update focuses on ecosystem concerns, particularly when it comes to managing device fleets, which will increase Chrome OS's long-term appeal beyond the dreary days of social distancing and mask-wearing. ®
* You can virtualise Windows 10 on a Chromebook via Parallels.