This article is more than 1 year old
Mobile World Congress to run this year's Barcelona event in June with 50,000 attendees. We're speechless
And the COVID-19 precaution? A negative test 72 hours before
In what is either going to be seen as hopeless optimism or a heavily telegraphed super-spreader event, the CEO of the Mobile World Congress has said he intends to run its annual mega tech conference in Barcelona as an in-person event.
The Spanish Mobile World Congress shindig is planned for the end of June – just four months away – and despite Spain being one of the countries hit hardest by the COVID-19 pandemic. Regardless, GSMA Limited chief exec John Hoffman told the associated Mobile World Live news site that he was estimating anywhere between 40,000 and 50,000 people would attend, noting that it would still be far below the 110,000 that showed up in 2019.
Where does this ill-placed optimism come from? From a test drive of a physical conference in Shanghai that MWC will run next week. Hoffman argues that the China event will "give people a bit of hope," adding, "let's move away from the effects of COVID-19 and return to something normal."
That may be easier said than done. As we pointed out this week, an effort to create a conference with an "immunity bubble" in Los Angeles last month at the Abundance 360 Summit turned out to be a disaster. Despite that event's organizer having an undergraduate degree in molecular genetics, a graduate degree in aerospace engineering from MIT and an MD from Harvard Medical School, he was incapable of controlling the virus. A dozen of the 30 people who attended, paying a hefty $15,000 or more to do so, contracted the COVID-19 virus, as well as more than half of the conference staff.
Bad precedent
How is MWC going to avoid a similar fate and prevent spreading the deadly disease to not 12 people but tens of thousands of people? "Attendees in Barcelona will require a negative Covid-19 test result (within 72 hours) and testing will be available at the venue," the news site reports, adding: "Hoffman also stated that the GSMA will be using technology to create a 'touchless environment', from registration through to all events within MWC."
He also seems to believe that the conference will be able to clear the virus out of the entire city: "Our view is it would be great if the world was vaccinated, but we can't rely on that in 2021 so instead we're relying on testing upfront to ensure our bubble isn't just the Fira Gran Via but the whole of Barcelona."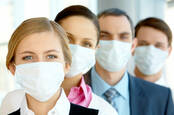 Co-founder of coronavirus vaccine biz holds in-person tech event... 20+ attendees later test positive for COVID-19
READ MORE
Our view is pretty simple: MWC Barcelona, if it does go ahead, will be just one more example of how optimism plus delusion equals idiocy. There is simply no way this will work well given how prevalent the virus is in Europe. In fact, an event that size could itself create an explosion of other cases across the world thanks to attendees flying in and out.
The most optimistic date for most people being vaccinated in rich Western nations will come after the event, and even then people are going to wary about attending enclosed conferences for months afterwards.
It sucks, but not as much as dying alone in a hospital bed. Or causing someone else to. ®