This article is more than 1 year old
Nvidia cripples Ethereum mining on GeForce RTX 3060 to deter crypto bods from nabbing all the kit at launch
Driver-level limitation to favor gamers for now, coin-crafting hardware to follow
Nvidia announced a family of GPUs solely for mining cryptocurrencies on Thursday – and that it's halving the cryptocurrency mining efficiency of forthcoming GeForce cards that go on sale next week.
Specifically, if the driver software for the GeForce RTX 3060 cards detects certain proof-of-work algorithms used in the mining of digital currencies, it will slash the hash rate.
This may deter some folks from immediately snapping up the cards to mine Ethereum in particular, leaving more kit for computer game fans to fight over... until the miners defeat the driver protection, of course.
"We are gamers, through and through," the Silicon Valley-based corporation insisted in a statement. "Yet Nvidia GPUs are programmable. And users are constantly discovering new applications for them, from weather simulation and gene sequencing to deep learning and robotics. Mining cryptocurrency is one of them.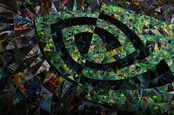 Nvidia: Using cheap GeForce, Titan GPUs in servers? Haha, nope!
READ MORE
"With the launch of GeForce RTX 3060 on February 25, we're taking an important step to help ensure GeForce GPUs end up in the hands of gamers. RTX 3060 software drivers are designed to detect specific attributes of the Ethereum cryptocurrency mining algorithm, and limit the hash rate, or cryptocurrency mining efficiency, by around 50 per cent."
"The RTX 3060 software drivers are designed to detect specific attributes of the Ethash (Dagger Hashimoto) algorithm, which is based on a unique memory access pattern," an Nvidia spokesperson told The Register. "Ethereum has the highest global mining yield for any GPU-mineable coin at the moment and thus is likely the main demand driver for GPUs in mining.
"Other algorithms do not contribute significantly to GPU demand and cannot change quickly due to network effects within a given cryptocurrency. The rate limiter applies to anything that uses Dagger Hashimoto or Ethash-like algorithms."
The RTX 3060 – which will go on sale at 0900 PT (1700 UTC) for $329 (£299) next Thursday – is Nvidia's most affordable GPU built to date using its latest Ampere architecture. Its cousins, the RTX 3090, 3080, and 3070 cards, were released last year and sold out virtually immediately, leaving gamers fuming. This time round, Nvidia wants to make its cheaper-end hardware less desirable to miners, which may result in some more stock for gamers at launch.
This also all comes amid a shortage in chips, as fabs have been unable to meet demand for various pandemic-related reasons, and so it's just hard for anyone to get their hands on kit at the moment.
Meanwhile, Nvidia will also peddle a crypto-focused series of GPUs collectively named CMP HX. These come in four flavors: the 30HX, 40HX, 50HX, and the 60HX, each one containing more memory and compute power than the last. Here's a handy table containing each chip's main specs: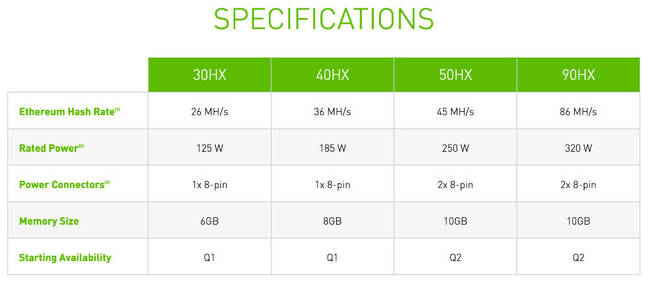 What you get for your bucks ... Click to enlarge. Source: Nvidia
They lack any ability to connect to displays, making them unsuitable for desktop gaming. On top of this, they have specific cooling systems and operate at lower peak core voltages and frequencies to keep power consumption low for mining.
Nvidia expects the weaker-end CMP GPUs will be available next month, we're told, with more powerful gear coming out in the second quarter of the year, perhaps giving the GeForce parts a chance to sell to gamers. They will be sold via authorized vendors, including: ASUS, Colorful, EVGA, Gigabyte, MSI, Palit, and PC Partner. ®
PS: For a searing take on Nvidia's move, see this YouTube video by Linus Tech Tips.