House Republicans introduce legislation for outright ban on municipal broadband in the US
Doomed bill seems to forget municipal broadband exists due to failures of private sector
House Republicans this week proposed legislation that would ban the creation of municipal broadband networks at a federal level, and shutter networks in areas where some private competition exists – purportedly to improve internet access across the US.
Dubbed the CONNECT Act (Communities Overregulating Networks Need Economic Competition Today), the bill [PDF] says: "A State or political subdivision thereof may not provide or offer for sale to the public, a telecommunications provider, or to a commercial provider of broadband internet access service, retail or wholesale broadband internet access service."
The CONNECT Act would also ban states from operating municipal broadband networks in areas where two or more private operators exist. The language here is fairly vague, and it doesn't state how affected operators should dispose of their existing infrastructure. It's also fairly limited about what constitutes a "private operator", deferring only to the barebones definition in the Code of Federal Regulations (CFR).
The CFR doesn't define any particular infrastructure technology, other than saying dial-up does not constitute broadband. Plausibly, satellite connections (like those offered by ViaSat and HughesNet, as well as newcomer Starlink) would be included in this catch-all, despite coming with higher costs and lower data caps than traditional fixed-line networks.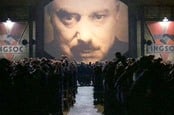 FCC boosts broadband competition by, er, banning broadband competition in buildings
READ MORE
Curiously, the bill makes an exception for the Great Depression-era, state-owned Tennessee Valley Authority, which, in addition to its main role as an electricity provider, operates a fiber-optic network in several states.
The CONNECT Act also ignores the fact that municipal broadband exists in many cities due to the failure of the private sector, which has largely passed over rural areas.
A great example is the small town of Wilson, North Carolina (population 50,000). In 2008, it raised the funds to build a city-owned fiber-optic network via a bond issue, motivated in part by years of under-investment from private providers like Time Warner (now Charter). Although fiercely opposed by the telecoms industry, this network is highly popular with residents, who enjoy better service and performance than would otherwise be available.
The bill is highly unlikely to pass the Democratic-controlled House, or receive sign-off from the Senate or President Biden. However, it does illustrate the high levels of antipathy towards municipal broadband from certain corners of the Republican Party, which regard it as emblematic of excessive government interference in the private sector.
Twenty-two states have passed laws that either prohibit municipal broadband entirely, or impose restrictions that make municipal broadband projects significantly harder to launch and operate. Minnesota, for example, requires municipalities to obtain a supermajority (65 per cent) of voters in a referendum before providing telecommunications services. Montana and Pennsylvania only permit projects if there is no private competition. Texas and Missouri have outright bans on municipal broadband.
While this is music to the ears of the telecoms industry, it doesn't do much for America's vastly unequal broadband market. The most recent FCC data [PDF] shows 26.4 million Americans lack access to broadband (defined as a minimum of 25Mbps down and 3Mbps up). In 2019, Microsoft argued the real figure was far higher at 162.8 million.
The pandemic has reinforced our dependence on the internet, which now caters for our every need: from shopping and healthcare, to education and basic human interaction. As we've learned in the UK, there are measurable economic benefits from fast internet, which extend to productivity, employment, and even house prices.
But you can't just rely on the private sector to do the right thing. They're businesses, not charities. It's expensive (and not particularly lucrative) to support sparsely populated rural areas. If you want to bridge the rural/urban digital divide, you need government intervention. ®