This article is more than 1 year old
UK Supreme Court declares Uber drivers are workers, not self-employed: Ride biz's legal battle ends in a crash
Brits score vital win against US giant's gig economy model
The UK Supreme Court yesterday ruled that Uber's drivers in Blighty are workers for the app-based taxi service, rather than self-employed contractors, potentially paving the way for more than 40,000 drivers to claim minimum wage and paid time off.
The case was brought by former Uber drivers Yaseen Aslam and James Farrar. In 2016, the Central London Employment Tribunal declared both men were, indeed, cabbies for the tech giant and were entitled to holiday pay, minimum wage, and paid rest breaks. Uber appealed the decision, and it was rejected. But the battle didn't end there: the biz took it all the way to the Supreme Court.
Now after five years, Uber has reached the end of line after the nation's highest court ruled unanimously in favor of Aslam, Farrar et al. A 42-page document [PDF] written by seven judges, led by Lord Legatt, described how the drivers were effectively employed under a contract with Uber in the UK, and why they ought to be workers.
"I am overjoyed and greatly relieved by this decision which will bring relief to so many workers in the gig economy who so desperately need it," said Aslam, who is also the App Drivers & Couriers Union President.
"During the six years of these proceedings, we have watched the government commission and then shelve a review of the gig economy yet do nothing to help us. I hope in future the government will choose to carry out its duty to enforce the law and protect the most vulnerable from exploitation."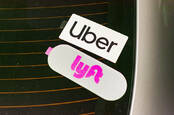 Californians OK'd Prop 22, Uber and Lyft tell appeals court. So how about we let gig workers be gig workers?
READ MORE
Uber workers have to accept certain terms and conditions before joining the app, such as agreeing to hand over 20 per cent of the fares made on each ride to Uber as a "service fee," the court noted. They're also at risk of losing their job if their average rating falls below 4.4 after having completed 200 trips or more.
If their rating does not improve, Uber deactivates their account, making it impossible to pick up or receive money for new rides via the app. Uber also uses its software to set how much each driver earns for a particular ride.
"Taking these factors together, the transportation service performed by drivers and offered to passengers through the Uber app is very tightly defined and controlled by Uber," the court said in a summary of proceedings [PDF].
"Drivers are in a position of subordination and dependency in relation to Uber such that they have little or no ability to improve their economic position through professional or entrepreneurial skill ... The drivers were rightly found to be 'workers'."
The Supreme Court's decision, however, only applies to the respondents in this specific case – Aslam, Farrar, and a number of others who joined the legal challenge. If any other Uber drivers want to get in on the action, they'll have to take it up with an employment tribunal that will take into account the top court's judgment, Oxford University's Dr Alex Wood told the BBC.
"We respect the court's decision which focused on a small number of drivers who used the Uber app in 2016," an Uber spokesperson told The Register.
"Since then we have made some significant changes to our business, guided by drivers every step of the way. These include giving even more control over how they earn and providing new protections like free insurance in case of sickness or injury. We are committed to doing more and will now consult with every active driver across the UK to understand the changes they want to see." ®