Huawei's new Mate X2 foldable phone costs almost $2,800
Bit derivative, though
Talent borrows, genius steals. With that in mind, here's Huawei's first new pholdable in almost two years*: the Huawei Mate X2.
This pricey handset borrows the same dual-screen approach used by Samsung's Galaxy Fold series, with one smaller outer display and a larger tablet-sized display that opens like a book.
Derivative? Maybe, but we're not complaining. At least not yet. The flexible displays used on foldable phones are notoriously delicate. We've seen some marked by the pressure exerted from a fingernail. By putting the Mate X2's display on the inside, where it is unlikely to be nicked by loose coins and wayward keys, it should be better protected against day-to-day abuse.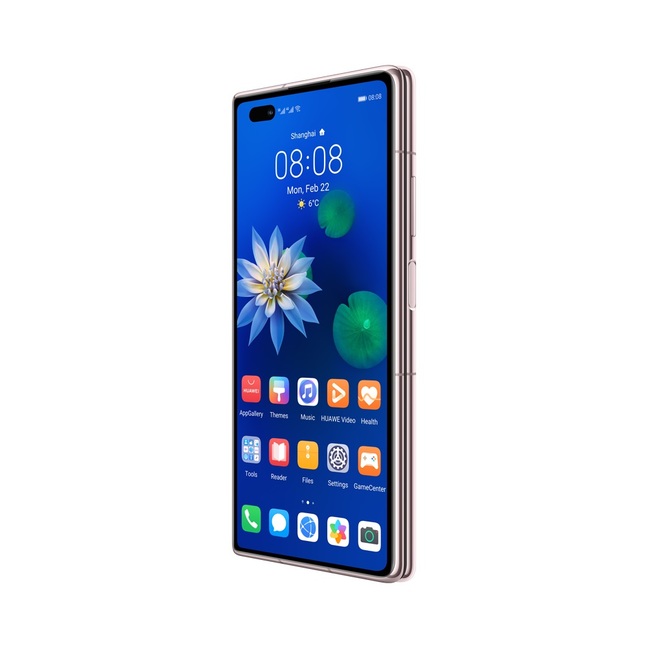 In terms of display, the internal tablet-sized screen measures eight inches from corner to corner, with a resolution of 2480 x 2200 and a 8:7.1 aspect ratio. The exterior screen is 6.45 inches across, with a 2700 x 1160 resolution and a 21:9 aspect ratio. Both use OLED panels, and have refresh rates of 90Hz. 90Hz offers decent fluidity while not being too punishing in the battery department. Beyond that point, you only really notice the benefits if you're partial to mobile gaming.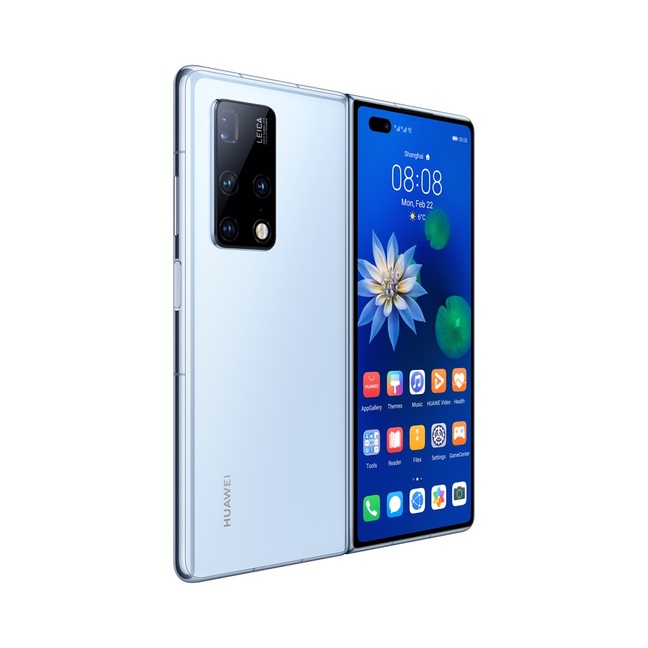 Huawei is eager to tout the new Falcon Wing hinge design, which it said reduces the phone's overall thickness, particularly when folded over. Early foldable phones (most notably the Royale Flexpai and Samsung Galaxy Fold) had a perceptible gap when folded over, which had the disadvantage of looking crap and exposing the inner display to potential damage. That isn't the case here.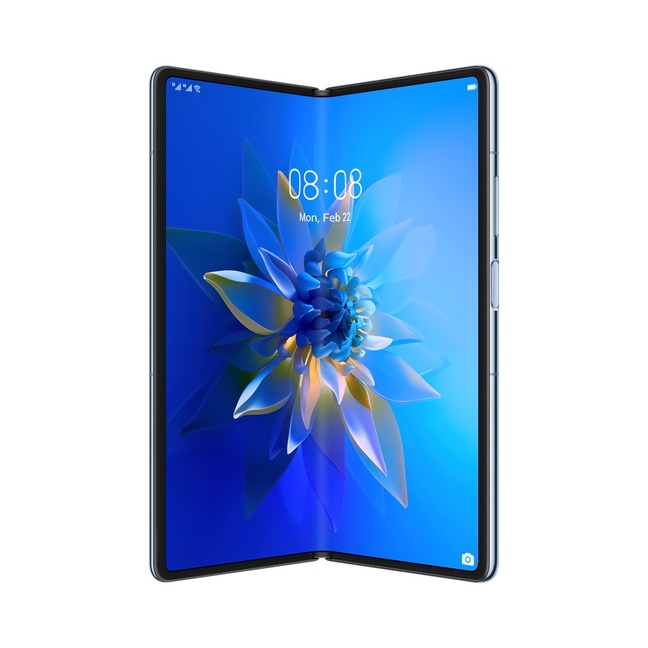 Making an appearance again is Huawei's HiSilicon Kirin 9000 platform, which appeared on last year's Mate 40 Pro flagship. This is a fairly formidable chip, surpassing Qualcomm's Snapdragon 888 in some artificial benchmarks. Long term, it may prove to be Huawei's swan song in the top echelons of the chipset market, given its inability to outsource contract fabrication work to TSMC.
On the RAM front, the Mate X2 comes with a single 8GB option. Huawei didn't specify what type, although the Mate 40 Pro used LPDDR5 RAM, so we'd assume the same is true here. The battery is rated to 4,500mAh, with support for 55W wired charging. We're curious to see how long that'll last, especially when using the device with 5G turned on, and in tablet mode.
The pholdable comes with four rear cameras: a 50MP wide-angle primary shooter, a 16MP ultra-wide, a 12MP telephoto with 3x zoom, and an 8MP camera with 10x zoom. While the external display touts a 16MP selfie camera, the Mate X2 notably lacks a camera on the internal screen, limiting the usefulness of the tablet mode.
As with almost all new Huawei phones released since mid-2019, the Mate X2 doesn't come with Google's proprietary Android apps. It's based on the open-source version of Android 10, skinned with its own EMUI 11 environment.
Huawei also claims it'll eventually be able to run the homegrown Harmony OS, although take that with a pinch of salt. As reported earlier this month by Ars Technica, Huawei's HarmonyOS spin for phones appears to be a fork of Android 10 rather than a distinct operating system built from the ground up.
Specs-wise, the Mate X2 appears to be a formidable contender. The Kirin 9000 is a solid chip, and the new Falcon Wing hinge design is genuinely intriguing. We have specific questions about the phone's long-term durability, as well as its battery life. Those will likely be answered when the first crop of reviews go live.
The Mate X2 will be a China exclusive upon launch, with availability pencilled in for 25 February. There is no word on an international release as of yet. The pholdable comes in two configurations, each with their own aneurysm-inducing price tag: a 256GB model that costs ¥17,999 (£1,980/$2,785) and a 512GB model at ¥18,999 (£2,090/$2,940).
That's expensive, even by the bonkers standards of foldable phones, which command a premium. Last year's Galaxy Z Fold 2 cost $1,999/$1,799. The (admittedly terrible) Motorola Razr entered the market with a $1,500 price tag. In comparison, both of those look… relatively affordable. ®
*Technically Huawei did release an upgraded version of the Mate X last year. The only real difference was a slightly upgraded display and a faster Kirin 990 platform. Nothing to write home from Shenzhen about.