This article is more than 1 year old
Look! Up in the sky! It's a bird! It's a plane! No, it's just a very unhappy Windows installation
The last attempt to resume your country failed. Would you like to try again?
Bork!Bork!Bork! Bork is back with a bang this week as Windows disgraces itself not on a mere kiosk, but on a billboard glaring balefully out over Manchester Piccadilly.
The sign is normally found blasting passers-by with advertisements. A glance at Google Maps shows a nostalgia inducing Thomas Cook advert for "Sun, Sea, You and Me" as well as one for the UK's National Grid exhorting Brits to aim for a net-zero Blighty by 2050.
2019, eh? Different times.
Things are quite different in 2021, as the photo snapped by Register reader Julian attests. No crowds thronging the approach to Manchester Piccadilly station and no ads. Instead, what we have appears to be the Windows resume loader, which tends to make an appearance after a surprise loss of power.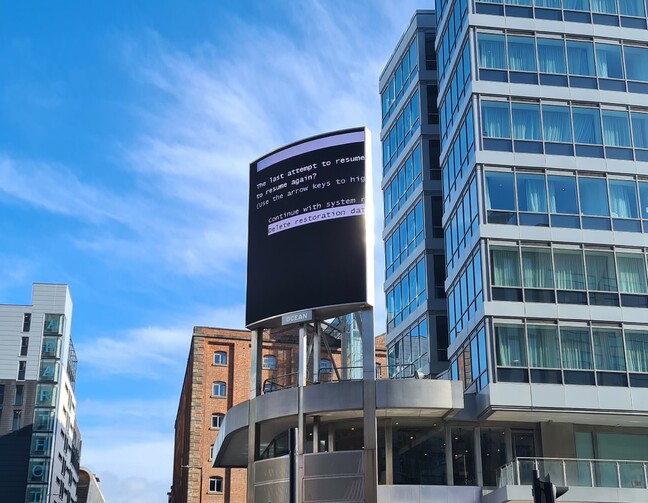 Experience in dealing with borked Windows 7 or Vista laptops teaches us that Windows is trying its damnedest to resurrect itself and load a hibernation file, which looks like it might be corrupt. Exactly why the computer behind the sign might opt to hibernate is up for debate (perhaps it is a metaphor for the past 12 months).
From what we can see of the screen, the user has two options. Continue with the resume or throw in the towel and wipe the restoration data (thus losing anything stored in that hibernation file). It looks like the operator behind the board is about to opt for the latter since the former could result in an endless boot loop.
Alas, something a bit more drastic might be needed: "Don't be fooled by the message on screen in the picture," warned Julian, "it soon returns to multiple boot attempts."
And there's that metaphor once again. ®