Does Samsung want you to buy new phones? Asking 'cos Galaxies now get four years of security updates
Even kit from 2019 is covered and so are the modestly priced A and M series
Samsung has announced that all its Galaxy devices will now receive security updates for four years after initial release.
The new policy applies as of now, but also to Galaxy devices launched since 2019. That means even 2019 releases like the Galaxy S10 will now get four years of updates.
"Mobile devices play such an important role in our lives, it's only natural that we want to hold onto them longer," said Samsung's security team head and veep, Seungwon Shin, in a canned statement. "That's why, thanks to the latest technology advancements, we're committing to securing Galaxy devices for even longer, so that everything that should be kept protected stays protected."
The new policy applies to all Galaxy devices, including tablets, the modestly priced A and M-series devices and ruggedised devices too.
Speaking of that ruggedised kit, Samsung already offered four years of updates for some of its range so this policy isn't completely novel.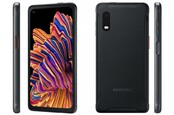 Wanna know a semi-secret? Samsung's semi-rugged Galaxy XCover Pro is more than a semi-industrial curiosity
READ MORE
While the new policy does not put Samsung on par with Apple, which still supports 2013's iPhone 5s running iOS 12, it does put the Korean company ahead of rivals like Xiaomi and OPPO, which offer two years of updates.
And that matters because China's mobe-makers are doing rather well in emerging economies, where their generously featured and keenly priced products are wining many customers. Keeping even lower-end Galaxies secure for four years should help Samsung in those markets, and won't hurt in more developed nations either.
The admission that its customers want devices capable of remaining secure for four years is significant as it signifies the Korean giant is willing to accept longer sales cycles. Phone-makers, and their carrier partners, have often aimed to have customers refresh their devices and contracts every two or three years.
Samsung has made other moves to lengthen the time between phone purchases. In March 2020 it back-ported the Galaxy S20's photography code into the previous year's Galaxy S10, and in August 2020 promised many Galaxy devices would support three Android versions.
All of which adds up to a smartphone upgrade treadmill that now turns more slowly, and surely a belief inside Samsung that it can profit after such a change. ®