SpaceX small print on Starlink insists no Earth government has authority or sovereignty over Martian activities
Isn't this a subplot from those James S A Corey novels?
SpaceX has ambitions for its Starlink constellation beyond annoying stargazers if the pre-order agreement for its satellite-based internet service is anything to go by.
Spotted by Register reader Amarinder Brar during his UK application for the system, an intriguing section in the fine-print warns that disputes related to "services provided to, on, or in orbit around the planet Earth or the Moon" are governed by English law, and "subject to the exclusive jurisdiction of the courts of England and Wales."
Mars, on the other hand, is a completely different kettle of fish. SpaceX is asking that those wanting a connection to Starlink from the Red Planet "recognize Mars as a free planet and that no Earth-based government has authority or sovereignty over Martian activities." That rule also applies when in transit to Mars "via Starship or other spacecraft."
... disputes will be settled through self-governing principles, established in good faith, at the time of Martian settlement
SpaceX boss Elon Musk is not messing about, and he'll have the keys to the airlock, after all. Still, "disputes will be settled through self-governing principles, established in good faith, at the time of Martian settlement," we're told.
It struck us as odd. Dr Bleddyn Bowen, lecturer in International Relations and Space Policy at the UK's University of Leicester and author of War in Space: Strategy, Spacepower, and Geopolitics, told The Register: "I'm not a space lawyer but you don't need to be one to see that this goes against Article VI the 1967 Outer Space Treaty."
"States Parties to the Treaty," it says, "shall bear international responsibility for national activities in outer space, including the moon and other celestial bodies, whether such activities are carried on by governmental agencies or by non-governmental entities."
That reads to us that the US government is liable for Musk's antics in outer space. Other articles make it clear that international laws still apply to space. "No Free Mars," remarked Dr Bowen, "unless he's allowed to break international law, or the states of Earth decide to change the Outer Space Treaty."
Then again, we note Article II of the treaty states, "outer space, including the moon and other celestial bodies, is not subject to national appropriation by claim of sovereignty, by means of use or occupation, or by any other means," which might be what SpaceX is banging on about.
It all seems somewhat premature, since Starlink isn't fully up and running yet. Coverage to this hack's remote working location isn't due until the latter half of 2021. £439 for the hardware coupled with the £89 per month charge for service is also a little on the high side although, to be fair, it isn't aimed at those with ready access to the wonderful world of fibre.
Our reader, who is a Master Mariner by profession, noted switching the Starlink agreement's region from GB to US added an exciting Agreement to Arbitrate section, and switched the governing law to that of the State of California. Mars, in the eyes of SpaceX, remained a utopia apparently free of such of shenanigans.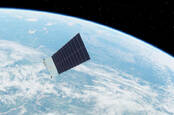 SpaceX wins UK regulator Ofcom's approval for its Starlink mobile broadband base stations
READ MORE
David Anderman, general counsel for Musk's rocket company, said in a Zoom chat last year with the Space Law Society at Berkeley Law school that he believed it was "clear that NASA is going to be aligned more to commercial space. Recently we won a Pentagon contract to [build missile-tracking satellites]. I think commercial space is here to stay."
According to legal news service Law360, he told Berkeley law students he was "actually working on a constitution for Mars. No country can claim sovereignty over heavenly bodies. At the same time, the US government has clarified that commercial space is real. I don't think it's crystal clear."
He went on to add: "I think SpaceX will move to impose our own legal regime. I think it will be interesting to see how it plays out with terrestrial governments exerting control. I do think we are going to have a pretty important role to play in what works and what laws apply."
Bold move, Cotton.
We asked SpaceX why the Moon and Mars features in its pre-order agreement since very few of us are likely to be paying either place a visit any time soon. NASA has quite the challenge in getting a first uncrewed flight of its Space Launch System launched this year and SpaceX's own Starship is still a prototype prone to explode. The company has yet to respond.
Brar wondered if SpaceX had plans to provide the next batch of Moon-bound astronauts with some spiffing broadband. "Just to keep them in touch with families back home with Zoom calls," he said. "I also wonder what Arbitration agreement would apply if I have issues with their services around the Moon."
After all, in space, no one can hear you sue. ®