UK might still be in lockdown but tech jobs rise above pre-pandemic levels and beyond, according to ONS
More women in tech workforce too, and salaries staying firm or going up
The number of UK tech jobs has surpassed pre-pandemic levels and the sector now employs more individuals than at any time in its history, according to official data released today.
A breakdown of employment data by the Office for National Statistics, the UK's largest independent producer of official statistics, shows that roles in the industry ("information and communication", in the data) hit 1.58 million in the final quarter of 2020, up by more than 100,000 since the low of 1.47 million in calendar Q2 of last year.
Tech jobs in the UK have now surpassed their pre-pandemic high of 1.52 million in the first quarter of 2020 and are higher than at any point since records began in 1997, when around 743,000 people were employed in the space.
As might be expected, the tech sector has done better than other parts of the economy. For example, wholesale, retail and repair of motor vehicles lost 126,000 jobs collectively between April and December, while there were 197,000 fewer Accommodation and Food Services jobs over the same period.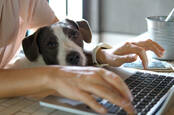 Big Tech workers prefer 3 days at home, 2 in the office. We ask Reg readers: What's your home-office balance?
READ MORE
Certain areas of the tech industry have fared better than others. The public infrastructure cloud, for instance, has grown by around a third in a year. PC sales are booming. However, the same can't be said for the enterprise data centre space with servers, networking and storage all down.
The ONS began measuring the male/female split in tech employment in 2018. Since then, the number of women in the tech workforce has risen from 379,000 to 485,000. Proportionately that is an increase from 28 to 31 per cent of the total number.
Meanwhile, tech salaries seem to be holding up. Preliminary data from Harvey Nash, the recruitment firm, shows that 54 per cent have seen salaries remain the same while 28 per cent have seen an increase over the last 12 months. The Harvey Nash Tech Survey 2021 also found that nearly eight in 10 UK tech workers want to continue working the majority of the week (3-5 days) from home after the pandemic.
Last year, Ginni Rometty, former CEO and current executive chairman of IBM, speculated about the future role of IT departments as the pandemic unfolds. She anticipated more IT-enabled automation in the workplace and the modernisation of applications.
Although the ONS figures might be encouraging for tech workers, the true picture will only come into focus as the UK's furlough scheme ends in April 2021 with the lifting of pandemic measures outlined by prime minister Boris Johnson this week. ®