This article is more than 1 year old
Microsoft spearheads a whole new genre with installation on the side of a Lyon tunnel
Ah oui, mais est-ce de l'art?
Bork!Bork!Bork! While a number of factors may be preventing the average tourist from enjoying European travels, bork appears to know no borders.
Today's example started out as an art installation projected onto the walls of the Tunnel de la Croix Rousse beneath the streets of the French city of Lyon.
The borkage has been gracing the tunnel since at least the summer of 2020 and was snapped last month by an eagle-eyed Register reader, fearful that somebody might put this unfortunate example of Microsoft's finest out of its misery before it could be shared.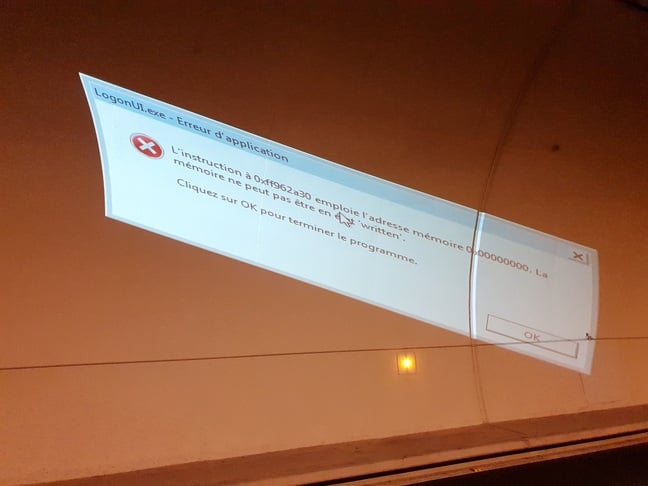 Click to enlarge
By our reckoning, the "Erreur d'application" that has befallen LogonUI.exe looks distinctly pre-Windows 10, and the message box could have come from another era entirely. The message itself appears to say that an application has attempted to do something Windows disagrees with, and the user has been left with little option but to kill the errant code.
Thank goodness for Microsoft's internationalisation efforts: the text is in the correct language (French) and seems somehow soothing when compared to the terse English equivalent.
French is, after all, the language of love.
Not so much the language of bork.
Sadly, our reader was unable to capture the artwork that should be there, noting that the use of an elderly Micros~1 operating system might indicate those behind the exhibition were more concerned with visuals than they were with the latest security updates. Unless, perhaps, this is an example of a whole new form of art installation?
Could we be seeing a move from Tracey Emin's My Bed to Bill Gates' Onscreen Whoopsie? What need have we for Roy Lichtenstein's Whaam! when, with only a few clicks, one could generate Ballmer's Boom?
We await the opening of a new BSOD wing at our local gallery with breathless anticipation. ®