No fair! Space Launch System gets cool stickers even though monster rocket failed test
They say 'NASA' and 'ESA', not 'You tried'
---
NASA took its mind off ongoing problems with the testing of its monster Space Launch System by slapping stickers on the fairings.
The spacecraft adaptor for the rocket, which protects the service module and is jettisoned during launch, has received the logo of the European Space Agency (ESA) below NASA's iconic "Meatball".
The European-built service module provides power and propulsion for the Orion spacecraft as well as water and air for astronauts. Not that Artemis I will be crewed; the mission is intended to give the hardware a workout before future missions launch humans.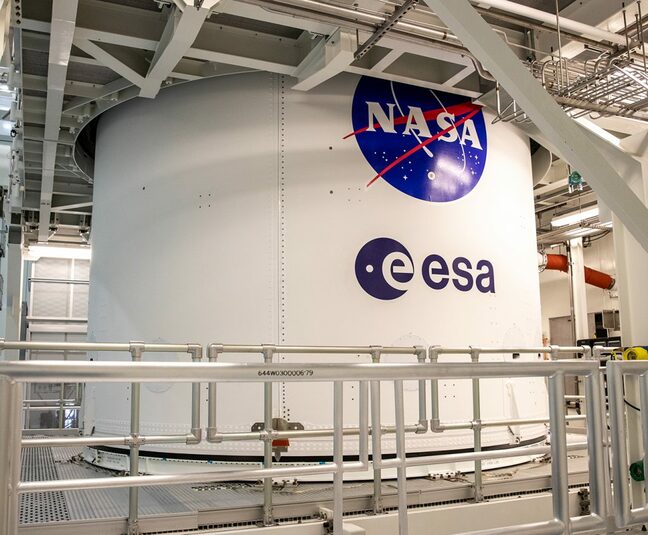 Click to enlarge
Sadly, the stack continues to linger in NASA's Kennedy Space Center Multi-Payload Processing Facility, where it is to be serviced and fuelled ahead of the arrival of the core stage of NASA's Space Launch System.
The Boeing-led core stage, which aims to perform the feat of transforming reusable Space Shuttle Main Engines into one-shot wonders to be dumped into the ocean during launch, remains firmly in place in its test stand at the agency's Stennis Space Center after a premature end to its test fire.
Engineers decided a second crack at the test was needed, putting the agency's goal of launching Artemis I in 2021 into jeopardy. The rescheduled hot fire test was due to be run on 25 February, but engineers found that one of the valves responsible for supplying liquid oxygen to an RS-25 engine "was not working properly."
All four liquid oxygen and all four liquid hydrogen valves performed as expected in the previous test even if the engines themselves were shut down prematurely after 67.2 seconds.
"NASA and the core stage lead contractor Boeing will identify a path forward in the days ahead and reschedule the hot fire test," said the agency.
The delay is likely to signify an end to hopes of launching Artemis I this year, and add further weight (if any were needed) to the argument for a delay to the 2024 landing on the Moon so beloved by the previous US administration. ®