Microsoft unveils swappable SSDs for Surface Pro 7+ but 'strongly discourages' users from upping their capacity
Opted for 128GB? Better hope that software bloat doesn't bite you
Microsoft has dashed fanboy hopes that the swappable SSD in its new Surface Pro 7+ might lead to an upgrade or two in the future.
Unveiling the range of Surface Removal SSDs (rSSDs), Microsoft admitted that popping in something bigger to replace an existing storage device was "technically possible", but it "strongly discourages" users from doing so.
The Surface Pro 7+ arrived last month and was a useful update on the distinctly long in the tooth Surface Pro 7, aimed primarily at business and education users. Among the hardware tweaks, including new processors and a jump in the maximum RAM, the SSD could be swapped out by an IT professional armed with a minimal toolset.
The "commercial spares", which target enterprises rather than consumers, are available through Microsoft's US reseller channels and comprise 128GB, 256GB, 512GB or 1TB versions. The parts will not work for the Surface Pro X or Surface Laptop Go.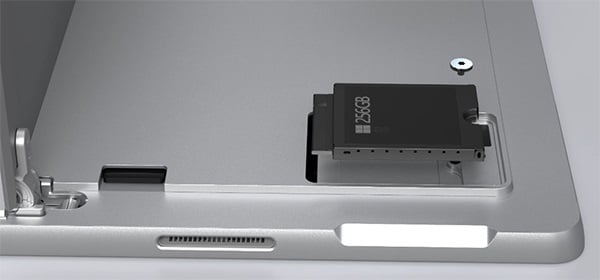 rSSD in a Surface Pro 7+
As if to ram home the point that those who bought the weedy 128GB version of the Surface Pro 7+ are stuck with their choice, Microsoft warned: "Installing a non-Microsoft or a Microsoft SSD of different volume than the one provided originally may lead to reduced performance and unsupported configurations."
There are any number of stories of ambitious Surface Pro X users changing out their removable SSDs for something faster and bigger, and the iFixit team demonstrated just how simple a removal could be (although cautioned that the SSD had some proprietary shielding, meaning that normal M.2 2230 drives might not be fully compatible).
The replaceable SSD is laudable from an enterprise standpoint. Data can be retained (or destroyed) securely as a PC asset is transferred between employees and failed hardware swiftly repaired.
It is, however, a shame that Microsoft, a company infamous for the voracious storage appetite of its software, has elected to discourage users from giving their devices a mid-life kicker even with its own commercial spares. ®