This article is more than 1 year old
Digital trust-busting time? US lawmakers mull how to tame giga-corps Amazon, Apple, Google, Facebook
Remedies to gatekeepers range from nothing to an antitrust breakup
US antitrust legislators held a hearing on Thursday to consider how to limit the power of technology gatekeepers like Amazon, Apple, Google, and Facebook in order to promote competition.
Over several hours, the House Subcommittee on Antitrust, Commercial, and Administrative Law considered the testimony of academics, policy advocates, legal professionals, and a map company executive as they weighed options for limiting anticompetitive conduct.
"With today's hearing, we take an important step in the process of restoring competition online," said House Judiciary Committee Chairman Jerrold Nadler (D-NY) in a statement. "The rise and abuse of gatekeeper power by a few dominant firms has undermined the goals of the open Internet."
"Instead of having an open, competitive ecosystem, online gatekeepers can and do put a thumb on the scale in favor of their own business and against innovators, entrepreneurs, and startups. Simply put, this allows them to pick winners-and-losers rather than compete on the merits."
Eric Gundersen, CEO of Mapbox, a provider of online maps, offered an example of the problem his company faces from Google, which through its terms of service requires that developers using Google Search on a map only use Google Maps and not a map from another provider.
"Tying together Google Search with Google Maps is not just anticompetitive for Mapbox," he said in prepared remarks [PDF]. "It impacts a huge number of developers and customers because it prevents developers from building the best product possible. We've watched customers spend months dismantling what they had built because of threats from Google."
John Thorne, a partner at Kellogg, Hansen, Todd, Figel & Fredrick, whose firm coincidentally is defending Facebook against antitrust charges, raised the alarm about Apple and its plan to roll out its App Tracking Transparency notification.
"The impact of iOS 14.5 threatens to be devastating for app developers," he said in prepared remarks [PDF]. "Industry analysts expect that 85 per cent of users will decline to opt in. That will make independent developers' advertising space (but not Apple's) several times less valuable."
And even for users who choose to opt-in, there will be less advertiser demand, leading to lower ad prices on iOS devices. "Many free apps will not be able to survive, and those that remain will charge subscription or download fees," he said, arguing that the Congress should enact a new enforcement tool to prevent imminent industry harm like Apple's opt-in to tracking gambit.
The House Judiciary Committee has already concluded, as stated in its Competition in Digital Markets report [PDF], that Amazon, Apple, Google, and Facebook control key distribution channels and abuse their power by charging excessive fees, by imposing onerous contract terms, and by extracting data from individual and corporate customers.
The question is what to do about it
The US government has already taken some action. The Department of Justice and two groups of state attorneys general have filed antitrust lawsuits against Google.
Facebook has also been sued by the Federal Trade Commission and a separate group of state attorneys general. And for the past few months there have been reports that Apple might face a similar legal challenge from the Justice Department and various states. And now Congress, after years of light-touch regulation, may finally be motivated to take more drastic steps.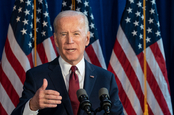 So what can we expect from a Joe Biden White House when it comes to tech? We'll try to answer that right now
READ MORE
Hal Singer, managing director of Econ One, a legal consultancy, proposed two remedies. The first, he explained in prepared remarks [PDF], is to enforce a separation of business concerns, to prevent harms like Amazon making its own versions of vendors products or Google favoring its own products in search results.
"You can be the platform but you can't also own the content riding over the platforms," he said, adding that this would need to be accompanied by rules to prevent contract terms that enhanced platform power, like exclusivity requirements.
The second, he said, would be a non-discrimination regime modeled after the 1992 Cable Act which forbade cable companies from discriminating against independent cable networks that compete against companies affiliated with the cable provider.
Singer cautioned however that such rules depend upon cooperation and commitment to respect the law and are vulnerable to companies that believe they're above the law. He pointed to Amazon's primitive lawsuit against New York Attorney General Letitia James "for having the audacity to consider new worker safety protections," to Google's threats to shut Google Search in Australia in response to a law requiring the sharing of ad revenue it earns from news content, and to Facebook's decision to block news links in response to that law.
Morgan Harper, senior advisor at the American Economic Liberties Project, called for these companies to be broken up.
"The problem is their power," she said, "the gatekeeping power that allows them to manipulate their users, profit off of data, and squash competition. And the only way that we will be able to stop that is not through individual regulation like interoperability, or non-discrimination, or individual enforcement action. It is through breaking up these companies, addressing the inherent conflicts of interest in their business models that create these incentives."
Tad Lipsky, adjunct professor at George Mason University's Antonin Scalia Law School and director of the competition advocacy program at the Global Antitrust Institute, argued little needed to be done to rein in the big tech firms.
"The case for major change in these rules and institutions is not well-supported by the evidence now of record," he said in prepared remarks [PDF] that came with a disclaimer that his comments reflect his personal opinions and not those of any organization with which he is affiliated. "... I would oppose any legislative effort to implement an across-the-board requirement for structural separation or imposition of line-of-business restrictions for the technology companies examined in the [Digital Markets report]."
Now the industry side
The Global Antitrust Institute has been funded by Amazon, Google, and Qualcomm among others, a fact not lost on committee member Rep. Mondaire Jones (D-NY) who made a show of suggesting that the financial support of these companies bought Lipsky's do-little testimony.
"With all due respect, Sir, if we had wanted to hear the views of Amazon, Google, or Qualcomm, we would have invited them," said Jones, who went on to describe Lipsky as a wolf in sheep's clothing. "The truth is that secret corporate funding like yours has distorted our discourse for far too long."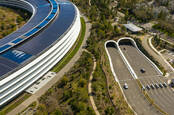 As Uncle Sam continues to clamp down on Big Tech, Apple pelted with more and more complaints from third-party App Store devs
READ MORE
After Jones ended his broadside, Rep. Dan Bishop (R-NC) took pity on Lipsky out of concern that he had been impugned and allowed him a minute to respond.
"Not being knowledgeable with the matters that were discussed [GAI's funding], I think it will be amply demonstrated by any review of my professional history that these views are fully consistent with what I have been articulating in terms of antitrust policy and antitrust enforcement since well before any of these digital technology companies even existed," Lipsky said, pointing to his participation in the US v. IBM antitrust case that began in 1969 and was dismissed 13 years later in 1982.
Lipsky said he had served as a deputy assistant attorney general who helped review the case and put an end to it because it had bogged down, become incoherent, and had been made moot by changes in the marketplace over that time. It was a long way of saying that changes in technology often move faster than the legal process.
Charlotte Slaiman, competition policy director at Public Knowledge, acknowledged the limitations of antitrust enforcement but urged prompt action to deal with the power that gatekeeper companies have over specific markets and the barriers they can erect to hinder potential competitors.
"If we want true competition against digital platforms like Facebook, Google, Amazon, and Apple, then we need to break open the gates," she said in prepared remarks [PDF]. "We need to change the structure of these markets so that one or a few firms can't maintain this gatekeeper power at the public's expense."
Slaiman urged legislators to craft interoperability rules, a possibility already contemplated in the Digital Markets report, alongside data portability.
"When the problem is network effects, the solution must be interoperability," she said. "Gatekeeper platforms must be interoperable with competitors and potential competitors. This means they must offer competitors and potential competitors access to key features of their networks to facilitate competition."
She also endorsed a strong non-disrimination rule, to prevent companies like Apple from using its oversight of its App Store to disadvantage apps that compete with its own. And she suggested the US Federal Trade Commission should enforce such rules, even as she acknowledged that regulatory capture – when regulators appear to be more interested in accommodating companies they're supposed to oversee than restraining them – can be a problem.
"We were frustrated many times by the power that the voice of industry seemed to carry at the Federal Communications Commission during the last administration," Slaiman acknowledged.
Singer expressed broader frustration with years of laissez-faire government. Pointing decades back to the 1992 Cable Act "when the government used to respond to problems," he said. "The question is why hasn't Congress acted to fill these voids over the last 20 years." ®