This article is more than 1 year old
GPUs for gaming, data-center servers continue to drive up Nvidia's revenues despite chip shortages everywhere
CEO Jensen Huang admitted his wunder-biz is 'constrained'
Nvidia continues to grow and beat Wall Street's expectations amid a global chip shortage. On Wednesday, it revealed bumper figures for the fourth quarter of its fiscal 2021, the three months to January 31, and full-year results.
CEO Jensen Huang boasted "Q4 was another record quarter, capping a breakout year" ahead of a conference call with analysts to discuss the numbers. He singled out gaming and the data center as his Silicon Valley corporation's two biggest areas, both driving up profits.
"Our pioneering work in accelerated computing has led to gaming becoming the world's most popular entertainment, to supercomputing being democratized for all researchers, and to AI emerging as the most important force in technology," he gushed in a statement.
In particular, we're told, GPU sales to verticals lead Nvidia's data center revenue growth as opposed to sales to hyperscale cloud giants. "Vertical industries were well over 50 per cent of data center revenue across compute and networking with particular strength in super computing, financial services, higher education and consumer internet verticals," CFO Colette Kress revealed to analysts on the call.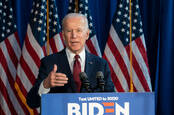 With computer brains in short supply, President Biden orders 100-day probe into semiconductor drought
READ MORE
Last year, the GPU giant launched a slew of processors based on its Ampere architecture. That includes the high-end A100, which is designed for AI supercomputers, servers, and chunky workstations, where the majority of compute power goes into training, developing, and running large neural networks and machine-learning algorithms.
It also refreshed its GeForce gaming line with five cards of varying power under the RTX 30 umbrella. Nearly all of them, including the 3090, 3080, 3070, 3060 Ti, were quickly snapped up after they launched. Hardware stocks are low, and aren't expected to recover any time soon, due to the ongoing drought of semiconductors.
The RTX 3060 card is due to go on sale on Thursday. That's the one Nv will throttle at the driver level if it detects it is being used to mine Ethereum-like coins, a move that may deter some miners from grabbing the affordable cards at launch, and thus perhaps leave a few more for gamers to fight over. From next month, Nvidia will tout GPUs specifically for mining. It's been suggested that this approach, while seemingly sensible on paper, won't actually achieve a lot if miners defeat the driver-enforced protections, and the crypto-mining cards divert silicon away from gamers.
"The entire RTX 30 Series lineup has been hard to keep in stock, and we exited Q4 with channel inventories even lower than when we started," Kress said on the conference call. "Although we are increasing supply, channel inventories will likely remain low throughout Q1."
Huang added: "At the company-level, we're constrained. Demand is greater than supply ... We just have to do a really good job planning." Then, to assure investors, he continued: "We have enough supply to grow each quarter throughout the year."
Despite all this, Nvidia appears to be in good and healthy spirits. Here's a quick run down on the numbers:
Revenues were $5bn for the fourth fiscal quarter, a jump of 61 percent compared to the $3.1bn from a year ago. That also marks the end of its fiscal year 2021, bringing its total revenues to $16.7bn, up 53 per cent from $10.9bn recorded the previous year.
Gaming in Q4 pulled in $2.5bn, a jump of 67 per cent from from a year ago. Over 70 new models of laptops launched containing a GeForce RTX 30 graphics chipset.
Data Center was the second biggest segment, making up $1.9bn in Q4 revenues. That's a hike of 97 per cent from the previous year. That does not include Mellanox's numbers: the acquired networking biz "had a sequential decline impacted by non-reoccurring sales to a China OEM in Q3," the CFO said. "Starting next quarter ... we will no longer break out Mellanox revenue separately."
Automotive, Professional Visualisation, and OEM are much smaller by comparison, and were $145m, $307m, $153m, respectively. Revenues shrunk here by 11 per cent, 7 per cent for self-driving cars and graphics rendering in games and animation. OEM, however, was up a smidgen of 1 per cent from the year ago.
Net income was $1.46bn for the latest quarter, an increase of 53 per cent from the $950m year-over-year. For the full year, it was up 55 per cent to $4.3bn.
Gross margin percentage was 63.1 per cent, down 180 basis points (BPS) from a year ago.
GAAP earnings per share were $2.31, an increase of 51 per cent from year-over-year.
Nvidia's proposed acquisition of British chip designer Arm is under review by regulators in the US and UK. Not everyone is in favor of it, unsurprisingly; Google, Microsoft, and Qualcomm have voiced their concerns in private. Huang, however, maintained confident that the deal would go through.
"At the time, we predicted it'd take 18 months for [the acquisition to process in] the US, UK, EU, China and other jurisdictions," he said. "This process is moving forward as expected, we are confident regulators will see the benefit. Together Arm and Nvidia will provide greater choice to the ecosystem and we intend to continue Arm's open licensing model.
"The pandemic will pass but the world has been changed forever, we see technology being accelerated across every industry. The urgency to digitise, automate, and accelerate has never been greater." ®