Bloody Dell! The humble notebook made the difference between a crappy fiscal 2021 and a good one
Yes, we will never mention the death of the PC again, at least until next time
Dell Technologies spent tens billions of dollars to diversify its kit bag beyond computers, yet it was the humble notebook that broke its sales records in 2020.
The Texan-headquartered tech giant reported a 9 per cent year-on-year revenue hike to $26.1bn for Q4 of its fiscal 2021, ended 31 January.
For the total year, turnover was flat at $69.91bn, and operating profit grew 96 per cent to $5.144bn, helped by a drop in operating expenses, favourable component costs and rising profitability in consumer sales.
On a conference call with analysts, Jeff Clarke, Dell chief operating officer and vice chairman summed up the thoughts of the world:
"2020 was a year that none of us anticipated and none of us want to repeat," he said. Yet it was also a period in which tech that helped people work, study and play at home went through the roof.
"The PC is the hub of this new economic model."
As such, Dell's Client Solutions Group pulled in $13.76bn for the quarter, up 17 per cent. Commercial revenue were up 16 per cent to $9.94bn and 19 per cent on Consumer to $3.8bn. Dell's biggest sellers included Latitude and Precision notebooks and Commercial Chromebooks.
For the year, CSG expanded 5 per cent to $48.35bn, shipping a record 50.3 million units, itself up 8 per cent. Commercial climbed 3 per cent to $35.39bn, and consumer was up 12 per cent to $12.95bn.
Operating profit for PC division was up 67 per cent in Q4 to $1.04bn and rose 7 per cent for the year to $3.352bn.
Clarke said SSDs continued to fall in cost, partially offset by rises in LCDs and ICs and the higher prices for air freight, something the company highlighted previously. "The air network is tight," he said, adding that microprocessor shortages also persisted, but clearly that is only a certain limitation.
Mobile now accounts for circa 75 per cent of the total PC market and Clarke said he sensed a sales opportunity "with public organisations that have been roughly 50-50, notebooks, desktops. So some catching up to do there. We think that continues to fuel growth as we head in to the 2021 calendar year."
He added that when some people do return to the office there will be "the largest ageing or the most significant ageing of an installed base that certainly we've seen ever in our industry."
Is he right? This was a call with financial analysts, so the Dell exec may have been over-egging the opportunity somewhat.
The pandemic trend of working remotely will continue for many, he added, with the PC at the centre of this.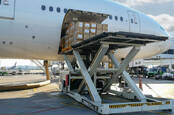 PC makers warn of battle for air freight capacity, will have to fight for cargo space with... the COVID-19 vaccine
READ MORE
"We believe the total addressable market is expanding as there are still millions of children around the world that need PCs. The number of PCs in the household continues to increase. And additionally, the refresh cycles are accelerating with the shift to notebooks."
So what about the other portion of Dell? We recorded VMware numbers here earlier, however things weren't exactly fizzing in the Infrastructure Solutions Group: Q4 revenues were flat year-on-year at $8.788bn.
Servers and networking was up 3 per cent to $4.37bn - first growth in 8 quarters - however Storage down 2 per cent to $4.4bn. This sort of financial output isn't what Dell was expecting when it coughed $67bn for EMC in 2015 to get into the infrastructure space in a bigger way. Dell is still paying back the money it borrowed to finance that purchase. The company had a total debt principal balance of $48.5bn at the close of fiscal 2021. It expects to pay off $5bn in fiscal 2022.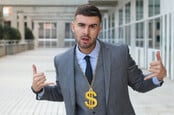 Selling hardware on a pay-per-use or subscription model is a 'lie' created by marketing bods
READ MORE
For the year, ISG was down 4 per cent to $32.58bn, including a 4 per cent drop in Servers and networking to $16.497bn, and a 4 per cent drop in Storage to $16.09bn.
The unit is still relatively more profitable than PCs, though: operating profit grew 7 per cent in Q4 to $1.189bn, helped by rising orders for servers. Demand in the second half improved, said Dell, with large bids from corporate clients returning to some extent. For the year, operating profit was down 6 per cent to $3.776bn.
The world has shifted more and more workloads to the cloud and as such, the hyperscale cloud providers reaped the rewards. Infrastructure hardware vendors like Dell have felt the pinch, but unlike some long standing rivals, Dell's Clarke said it was able to "lean into the pockets of growth when and where they occurred."
Analysts estimate higher server spending in 2021, though the outlook for storage has remained cloudy. Dell is putting more effort into selling tech as a service via the Project APEX brand of services. This includes "IT resources on demand, Dell managed infrastructure, enabling our customers to pay for only what they use, built on a foundation of trusted technology all at scale. Starting in May, we will bring the first of the new APEX offers to market and add new offerings over the course of the year," said the COO on last night's conference call.
Not everyone agrees that consumption based selling is how all customers want to buy tech but most hardware vendors are petrified of being relegated to the sidelines by AWS, Microsoft and Google. One area these cloud vendors are not likely to dominate anytime soon in, is PCs. Dell must be glad it's still in that game. ®