This article is more than 1 year old
Seagate UK customer stung by VAT on replacement drive shipped via the Netherlands
Well, Brexit meant Brexit
One of the consequences of Brexit came back to bite a Seagate customer in the UK who was forced to pay import VAT and brokerage fees on a replacement drive still under warranty that was this month shipped from the Netherlands.
Tom Parkinson, CEO at New State Entertainment, a group of labels specialising in dance and club music, said the business has four Synology NAS units that each house 10TB, 12TB, or 16TB drives.
"Occasionally bad blocks will rise on a particular drive and before failure it's advisable to swap out for a new HDD," he told The Register. "Having done this a few times over last three years since install and having five year return to base swap with Seagate – [it was] always super smooth."
Except when it wasn't: one drive went down at the end of January.
According to Parkinson, he bought the product via official channels and was asked by Seagate to use its portal to process the return. He packaged up the defective drive and sent it to the company on return merchandise authorisation. Seagate agreed the drive was indeed borked and organised for a new one to be sent out.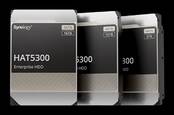 Synology to enforce use of validated disks in enterprise NAS boxes. And guess what? Only its own disks exceed 4TB
READ MORE
The process typically takes a week, based on his past experiences, and on 8 February the drive maker advised that a shiny replacement was en route to Britain from a warehouse in the Netherlands. "Then silence" for 10 days, he told us.
The UPS service tracking the package stated it had been "delayed due to a Brexit-related disruption" and the logistics firm was "adjusting delivery plans as quickly as possible". Parkinson later logged into the UPS system only to discover there was a charge of £45.12 including £33.62 in "government charges" and £11.50 "Brokerage charges" on the new drive.
This was 10 to 15 per cent of the original buy price, said Parkinson, who told us he had not been made aware of any changes. "Seagate support were very kind & sympathetic about how stupid it is to ask a yes/no question referendum about something so complex — but ultimately unhelpful…"
He said import duty was effectively paid twice on the drive and its replacement. And Seagate had "NOT" suggested any alternative workaround to the situation.
Britain formally left the EU at the close of 2020 and so customs duty will be charged on goods worth more than £135 that are imported.
In a statement sent to The Register, a spokeswoman at Seagate said: "As we all know, Brexit brought some new terms to how businesses operate in the UK, consequently there are some changes for the UK customers, too.
"With the UK leaving, a border came between the EU and the UK and as a result VAT is charged when products are crossing that border. We had this information communicated and sent out to all customers saying that the customer is responsible for paying taxes and duties to and from Seagate. This is not something new but with the UK leaving the EU, it is new to customers in the UK, indeed."
The returns policy is here.
The spokeswoman added: "It's important to mention though that there are no import duties applicable for hard drives. What is charged is import VAT. In addition, while it is correct that the customer is responsible despite the warranty, the customer will be entitled for a VAT relief. If they declare the replacement as outward processing relief at export. If the customer fails to do so, then yes, it is up to the customer to pay for the VAT, and this is a Brexit consequence: VAT is charged when products are crossing the border."
We have left the last word to Parkinson.
"We are a small, small player with only 64 drives in our 'SMB' Synology set up – what are bigger companies and UK data centres with 100s & 1000s [of] drives gonna do? Buy stocks upfront and ignore warranties? So much red tape and wasted time."
That was always the fear of Brexit: a wave of bureaucracy. Still, the blue passports are being dispatched.
Are you paying import duty or facing other consequences of Brexit? Send us an email here. ®