VMware reports 'progress on potential spinoff from Dell', beats expectations for Q4 and full FY2021
Containerised Tanzu portfolio starts to make serious sales progress
---
VMware has closed its 2021 financial year with $11.8bn of annual revenue, $3.3bn of it earned in Q4.
Those figures [PDF] represent nine and seven percent growth, respectively. SaaS and subscription revenue rose by 27 percent year-on-year to $707m for Q4. The company recorded the same increase for annual SaaS and subs revenue, which are now running at $2.9bn a year.
Net income was $791m for the quarter and $2.058bn for the full financial year.
CFO and interim CEO Zane Rowe also revealed "progress on the potential spinoff of VMware from Dell."
Rowe said the special committee of independent directors that it considering Dell's proposals "continues to evaluate the spin-off" and believes "that it could be value-enhancing to VMware and its stockholders."
But until Dell's proposal is detailed in public, VMware will stay schtum.
Rowe was happy to talk about the performance of VMware's different products, especially its container-wrangling Tanzu portfolio because "exceeded expectations and had a strong attach rate in eight of the top 10 VMware deals in Q4." As the company did 35 deals worth $10m or more, it looks like VMware's very largest customers like its container story.
That matters because VMware knows that applications are more likely to be abstracted as containers than virtual machines in the future, so needs a competitor for the likes of Red Hat's OpenShift and needs that competitor to have real traction.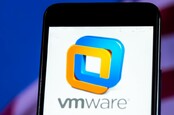 VMware warns of critical remote code execution flaw in vSphere HTML5 client
READ MORE
COO for products and cloud services Raghu Raghuram spelled that out for investors, saying "our efforts in Tanzu are around two axes."
"One is to win new customers, especially in the Kubernetes ecosystem; and second, renew and expand the customers that were part of the Pivotal family."
Rowe admitted the company recorded some "tough compares" as the NSX network virtualisation tool and vSAN virtual storage server had single-digit year-over-year declines. The interim CEO said that was an improvement compared to Q3 '21 and was mostly attributable to really large deals not including either product.
Core compute virtualisation products performed well, recording low single-digit year-over-year growth. Which isn't bad for a mature product that VMware once said should be considered in long-term decline.
Three quarters of new bookings for the company's end-user compute products are now sold as SaaS,
Three quarters of our EUC product bookings are now SaaS, a pleasing outcome as it means VMware can show more of that sweet subscription revenue that investors now value.
VMware cloud on AWS saw workloads and revenue "nearly doubling year-over-year".
The company offered FY '22 guidance of $12.8bn in revenue, representing eight percent growth.
But not a word was said about who will lead VMware now that former CEO Pat Gelsinger has left for Intel.
In other VMware news, the company's managed on-prem private cloud - VMware Cloud on Dell EMC - has become available in the UK, Germany, and France. ®