In YouTube's world, parental supervision means: 'Everyone sign in to Google, click once, and trust we get it right'
That's what's on offer in new 'supervised' YouTube mode for tweens and teens
YouTube has introduced features that allow for "supervision" of tweens and teenagers, but it only works if kids use their parent or guardian's Google account and only offers pre-programmed filters.
The streaming site has woken up to the fact that the millions of vids it hosts are notoriously varied and that kids can easily wander beyond the bounds of the YouTube Kids program it offers four to thirteen year old users.
The new offering therefore gives tween and teen users a "supervised" taste of the larger platform which Google claimed it would protect from "personalised" ads and unseemly content.
The service offers parents three levels of supervision: Explore for those nine and up, Explore More for those 13 and up, and Most of YouTube, a mode that has just about everything except content marked 18+. Those using the supervised account will not be able to comment on or upload videos and will not see "personalised" ads. YouTube promised access to search history, watch logs, screen timers and the ability to block content through the supervised account.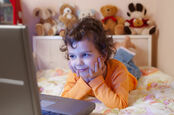 Google, YouTube cough up $170m to make that trifling little thing about slurping kids' info without consent go away
READ MORE
The new YouTube features are not to be confused with Google's Family Link, an app that can already view a child's online activity, limit screen time, manage apps, and track a child's location.
The filters come as rival video app TikTok has grown an audience of which more than a third of its US-based users are in the 10-19 age bracket as of June 2020. TikTok announced its own "Family Pairing" program last April.
Also in the background is the $170m fine YouTube paid to settle FTC charges for violating the Children's Online Privacy Protection Act Rule late in 2019.
At the time, FTC chairman Joe Simons thundered: "YouTube touted its popularity with children to prospective corporate clients... Yet when it came to complying with COPPA, the company refused to acknowledge that portions of its platform were clearly directed to kids."
YouTube said a beta version of its supervised accounts will be available in the "coming months." ®