This article is more than 1 year old
Apple, forced to rate product repair potential in France, gives itself modest marks
Never mind the glue and soldered RAM
Apple, on its French website, is now publishing repairability scores for its notoriously difficult to repair products, in accordance with a Gallic environmental law enacted a year ago.
Cook & Co score themselves on repairability however, and Cupertino kit sometimes fares better under internal interpretation of the criteria [PDF] than it does under ratings awarded by independent organizations.
For example, Apple gave its 2019 model year 16-inch MacBook Pro (A2141) a repairability score of 6.3 out of 10. According to iFixit, a repair community website, that MacBook Pro model deserves a score of 1 out of 10.
Apple's evaluation of its products aligns more closely with independent assessment when it comes to phones. Apple gives its iPhone 12 Pro a repairability score of six, which matches the middling score bestowed by iFixit.
"It's self-reporting right now," said Gay Gordon-Byrne, executive director of The Repair Association, a repair advocacy group, in an email to The Register. "No audit, no validation, yet. I think there is another year before there are any penalties for lying."
Nonetheless, Gordon-Byrne expressed optimism about the impact of the French law.
"We've been looking forward to seeing the repairability index details since the idea was first proposed," she said. "It's the first view any of us have had that allows us, as consumers, to pick products that can be more easily repaired. Even if buyers decide to buy products with lousy scores – they will at least know ahead of time. "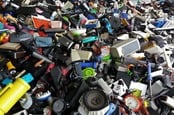 Calls for 'right to repair' electronics laws grow louder across Europe
READ MORE
The focus of the French law is to fight waste and encourage recycling across multiple market segments, not just electronics. But e-waste remains a significant issue.
According to The Global E-waste Monitor 2020 [PDF], a report from the International Telecommunication Union (ITU), the Sustainable Cycles (SCYCLE) Program run by the United Nations, and the International Solid Waste Association (ISWA), there were 53.6m metric tons (Mt) of e-waste, consisting of discarded tech products and components, generated worldwide in 2019, an increase of 9.2 Mt​ over five years.
In 2019, only about 17.4 per cent of e-waste was recycled. And over the past year, with Apple Stores closed in many places due to the pandemic, repairs for Apple products have been more challenging to arrange than usual.
Signs of progress
Apple doesn't make it easy.
Right from the start Steve Jobs didn't want people mucking around on the inside of his kit. In latter years Cupertino has pioneered ways to make it difficult to upgrade and repair - from new screw heads to manufacturing techniques that make cracking and fixing your laptop very difficult.
Kyle Wiens, CEO of iFixit, also expressed enthusiasm for France's regulatory intervention.
"iFixit has been advocating for improved repairability for Apple's products for a long time," he said in an email to The Register. "From gluing in batteries to hiding their service manuals, Apple has systematically stymied their customers who just want to fix their stuff."
"Finally, thanks to the brave work of the French government, Apple is publicly admitting what we've been saying for a long time: they have a repair problem. Apple's products should last longer."
Wiens said he hopes the rules will encourage Apple to rethink its design process.
"Gluing unreplaceable batteries into the AirPods is planned obsolescence," he said. "It's bad for the environment, it's bad for customers, and it's bad for society."
Apple, which we rate at one out of ten for willingness to speak with the press, did not respond to a request for comment. ®