This article is more than 1 year old
President Biden weighs in on Amazon unionization efforts, warns giant to steer clear of threats, coercion
Stops well short of ordering govt action as fresh discrimination lawsuit filed
President Joe Biden has weighed into a battle over unionization taking place at an Amazon warehouse in Alabama, posting a video in which he warns that "it's not up to an employer to decide" if their workers' unionize and that "there should be no intimidation, no coercion, no threats, no anti-union propaganda."
The video fails to say Amazon by name but President Biden notes that "today and over the next few days and weeks, workers in Alabama, and all across America, are voting on whether to organize a union in their workplace."
The Alabama mention is an unmistakable reference to the highly publicized battle between Amazon workers and management at its warehouse in Bessemer. The company has been accused of going to some lengths to warn workers off joining a union: anti-union messages have been posted in the warehouse's bathrooms and last week anti-union ads ran on Amazon-owned streaming platform Twitch. The ads were taken down when people complained.
Amazon has also sent repeated texts to workers on the issue. One told them to vote by March 1, despite them having until March 29 - something critics suspect is an effort to limit the opportunity for unionizers to persuade workers to sign up. Another strange situation was the sudden appearance of a mailbox at the warehouse followed by a text sent from Amazon management to its workers telling them to place their votes in the new mailbox.
Amazon has also retained a law firm that specializes in anti-union efforts and has aggressively fought the effort to get a unionization vote off the ground. The lawyers have repeatedly questioned every aspect of the vote - which needs to be officially sanctioned by the US National Labor Relations Board (NLRB) - whether that is arguing over what the right the virus infection rate to use is, whether mail-in rules were applicable to warehouses, claiming that a mail-in vote would lead to an inaccurate vote, and even arguing over the definition of what a virus "outbreak" is. It also complained that Amazon's suggestions for how to improve the voting process had been rejected.
Watching
The company also posted job ads for two analysts last year to monitor unionization efforts - ads that were taken down following an outcry - and has been accused of scouring Facebook groups and employee emails for any signs of labor organizing. Regardless the vote will move forward and Biden's intervention is a sign that developments are being closely watched by Washington.
"Let me be really clear: it's not up to me to decide whether anyone should decide a union," the President said in the video. "But let me be even more clear: it's not up to an employer to decide that either. The choice to join a union is up to the workers - full stop. This is vitally important." He also mentioned that "no supervisor should confront employees about their union preferences."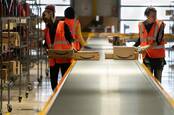 What's a COVID-19 outbreak? Amazon gets all Trumpy over Alabama warehouse workers' mail-in vote to form a union
READ MORE
For years, Amazon has been at the end of complaints about work conditions - something highlighted by a significantly higher injury rate at its warehouses than its competitors. When The Register spoke to several Amazon warehouse workers back in September, they described a "Mad Max" atmosphere where the constant drive to hit delivery targets combined with institutionalized firings of the least productive workers was causing a whole range of problems.
If Amazon's Alabama warehouse does vote to unionize, it will be the first for the online giant and almost certainly be followed by other warehouses across the country, prompting Amazon to go all out to try to crush the union efforts before they can claim a victory.
While President Biden's warning will undoubtedly be heard by Amazon management, it also falls short of what he could do as president to ensure that Amazon was treating its employees fairly; pointing to Biden's conservative tendencies. Biden didn't threaten any action against Amazon for its anti-union activities and made it clear that the government would stay out the way, effectively leaving it up to Amazon to decide what path to take.
New lawsuit
Adding to the pressure on the online giant on Monday, it was also hit with a lawsuit alleging discrimination against black and female workers at its corporate offices. The lawsuit claims that Amazon promotes people of color at lower rates than white co-workers
The case has been brought by Charlotte Newman, who says she was "assigned and doing the work of a senior manager-level employee while still being paid at and having the title of the manager level." She was also "paid significantly less than her white coworkers, particularly in valuable Amazon stock," the lawsuit alleges while complaining about the "near-total lack of Black representation in and very few women in the upper echelons of the group's leadership."
As the for the union vote, it is already underway and will close at the end of March. ®