This article is more than 1 year old
Chinese businessman plotted with GE insider to steal transistor secrets, say Feds
Hong Kong-based suspect wanted to create rival startup using pilfered silicon carbide MOSFET blueprints – claim
A Chinese businessman has been accused by the US government of trying to steal silicon secrets from General Electric (GE).
Chi Lung Winsman Ng, 64, who lives in Hong Kong, has been charged with conspiring to pilfer sensitive information on the American giant's silicon carbide MOSFET transistors, a technology he told potential investors was worth $100m.
The FBI alleged that between March 2017 and January 2018, Ng and "at least one co-conspirator" – a GE engineer of more than seven years – plotted to swipe the blueprints for the transistors, which are electronic components typically found in industrial equipment and vehicles that regulate the flow of electricity. The duo planned to use the stolen trade secrets to set up a competitor in China, it's claimed.
Investigators have seen PowerPoint presentations prepared for potential investors by Ng in which he sought $30m in funding to take the tech to market, arguing the startup would be profitable within three years. Someone among the investors likely turned the presentations over to the US government. The FBI stresses however that "we have no evidence that there was an illegal MOSFET technology transfer to any Chinese companies, including the company that Ng and his co-conspirator were trying to start."
Ng has "yet to be arrested," the FBI noted. If convicted, Ng faces up to 10 years in prison and a fine of up to $250,000.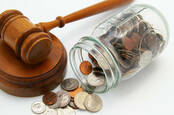 After first floating $20bn penalty, DoJ suggests $60m fine for UMC's theft of Micron's DRAM secrets
READ MORE
"Winsman Ng and his co-conspirators allegedly chose to steal what they lacked the time, talent or money to create," said Assistant Attorney General John Demers of Dept of Justice's National Security division. "Theft of American intellectual property for the benefit of foreign firms deprives American companies of the fruits of their creativity and American workers of their jobs. The Department will do all it can to disrupt this illegal and economically destructive conduct."
The FBI special agent in charge of the investigation said: "Our office, the US Attorney's Office, and GE coordinated closely and worked quickly to prevent that theft and the resulting damage to our economic security. Theft of trade secrets is a constant and dangerous threat to our American companies and the remarkable work they do to invent and manufacture unique technology that can change the world."
But the Justice Dept did note that "the charge in the indictment is merely an accusation. The defendant is presumed innocent unless and until proven guilty."
The theft of intellectual property from the US to China has been a persistent bugbear of the US government for over a decade, and following significant political pressure, China has at least said it will start addressing the issue.
In September, a Chinese professor was found guilty in the United States of economic espionage and theft of trade secrets and was sentenced to 18 months behind bars, and fined $476,835. He had been in custody for five years following his arrest at Los Angeles airport in 2015. ®