This article is more than 1 year old
IBM Cloud Satellite now available, 'rooted in Red Hat OpenShift,' says CTO
Big Blue extends its cloud to run anywhere – including competing public clouds
Interview IBM's multi-cloud, and on-premises, Satellite service is now available, and it's "rooted in Red Hat OpenShift," according to Big Blue's Cloud CTO Jason McGee.
Cloud Satellite has been in beta since May 2020, and is a managed Kubernetes service that can run on public clouds – including AWS, Azure, and Google Cloud Platform – or on-premises, including edge locations.
It is managed from IBM cloud using a control plane based in part on the open source Razee project, and includes a service mesh based on Istio and observability including Watson AIOps, presumably bolstered by Instana technology acquired by IBM in December last year.
Connections between the control plane and OpenShift locations use Satellite Link, including firewall management and packet capture for auditing. Satellite is a platform for deploying containerised applications and can also consume IBM cloud services.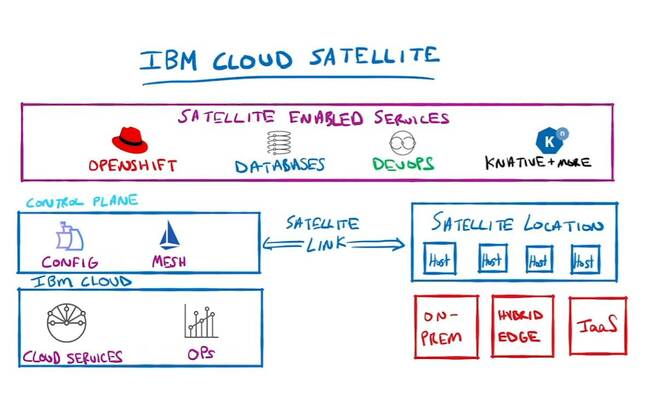 IBM Cloud Satellite as explained here
"It is a really important new component of our cloud strategy," McGee told The Reg. "Customers have diverse hybrid cloud environments, in multiple public clouds and in their data centres. Satellite lets us deliver as-a-service cloud capabilities into all those environments. It's largely driven by consistency, for example our Watson Studio AI capabilities enabled with Satellite."
McGee said that "Satellite builds on the work we've been doing for the last four years offering Kubernetes and OpenShift as a service. We take care of provisioning and managing infrastructure, updates and security patching, recovery and auto-scaling."
Running Satellite on non-IBM clouds?
Edge and on-premises is one thing, but why would customers choose to run Satellite on other clouds such as AWS and Azure? "Satellite is always managed from IBM cloud, so the experience is an IBM cloud experience," said McGee. "The use case for other clouds like Amazon or Azure comes down to two things. Consistency of the service … and often to get close to the data that they're processing without having to move data around. We have clients who have pools of data in these different environments."
We use OpenShift as the common technical platform to run everything
What is the relationship between IBM Cloud Satellite and Red Hat OpenShift: is there internal competition, since Red Hat is owned by IBM?
"There is no compete there at all," said McGee. "OpenShift plays two important roles. First, it is the application platform. Satellite delivers OpenShift as a service. Second, it's the platform underneath Satellite, that our other services run on. We've built our entire public cloud on Kubernetes and OpenShift. All our data services, our AI capabilities, our DevOps tools, our Edge capabilities, they all run in production today on a Kubernetes platform." The location flexibility of Satellite "is rooted in the fact that we use OpenShift as the common technical platform to run everything."
IBM has also introduced what it calls Satellite Infrastructure Service, where the company delivers hardware to a customer's data centre and runs "the whole stack" under a consumption-based business model. There will also be appliance-like solutions from third parties including Dell.
McGee told us that IBM has a "focus on industries, in particular regulated industries like financial services, government, health care and telecommunications" where it has built tailored security and compliance features. He also said the new service is good for data sovereignty "because we can deliver Satellite to the locations where the data lives."
What is IBM's cloud strategy?
"It's about a hybrid platform that gives customers the flexibility to consume cloud wherever they need it. Our public cloud is focused on having a full stack horizontal cloud that is optimised for particular industries," McGee told us.
IBM's cloud market share is small – somewhere in the "other" category in these Canalys figures for Q4 2020, for example, which put AWS at 32 per cent, Azure at 20 per cent, Google at 7 per cent, and Alibaba at 6 per cent.
Gartner estimated IBM's share at 1.8 per cent in 2018 but neglected to mention it at all in its 2019 figures.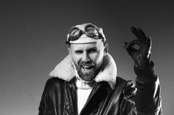 Google admits Kubernetes container tech is so complex, it's had to roll out an Autopilot feature to do it all for you
READ MORE
This modest market share explains why support for running on other clouds is a necessity – yet Google also offers this with its Anthos product, while Microsoft also has multi-cloud support with Azure Arc.
Is IBM cloud mainly for existing IBM customers moving to cloud?
"We always spend time with our existing customer base and we think there is huge value here for them, but we also see a lot of growth here," said McGee. "Think about financial services: we're working with the partner ecosystem, the ISV ecosystem, bringing them into IBM Cloud and enabling them to deliver their SaaS [software as a service] under these enhanced controls and security… there is a huge new customer opportunity here."
What is also of note is the fact that IBM now positions itself as a provider of managed OpenShift, using the open source technology it acquired with Red Hat. Red Hat also offers managed OpenShift, despite McGee's assertion that there is "no compete there at all"; but IBM has a range of integrated cloud services which make its product distinctive, as well as owning global infrastructure that Red Hat lacks. ®