This article is more than 1 year old
China creates a $50bn tech 'aircraft carrier' by merging two state-controlled entities
Merged Potevio and CETC do drones, 5G, satnav, lots of military software, and have been told to accelerate R&D
Late last Wednesday evening a regulatory announcement appeared on the Shanghai Stock Exchange that may well have signaled a major change in China's approach to developing key technologies.
The announcement [PDF] was made by Eastern Communications, a subsidiary of Potevio that said its parent will re-organise and merge with China Electronics Technology Group Corporation (CETC).
That's big news because both Potevio and CETC are state-owned companies that are controlled and directed by China's State-owned Assets Supervision and Administration Commission (SASAC).
SASAC'S Chairman Hao Peng last week delivered a speech outlining how state-controlled companies will help China to meet the goals of the fourteenth five-year plan, which includes an aim to build more key technologies locally and a pledge to accelerate China's R&D effort.
Potevio makes telecoms equipment, including 5G,and also offers servers, storage, automatic teller machines and plenty more. CETC is a key supplier to China's Beidou satnav constellation, has operated colossal drone swarms and is known to provide software and services to China's military. The company also helped to develop a China-friendly version of Windows.
And soon the two companies will become one.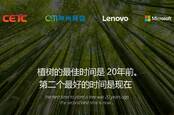 Redmond puts wall around Windows 10 for Chinese government edition
READ MORE
State-controlled outlet Sina Finance described the merged companies as a "communications aircraft carrier", such will be its power and reach.
The new entity will boast revenue over $50bn, making it China's second-largest tech company by revenue with only Huawei's ~$135bn out in front and Lenovo in the same revenue neighbourhood.
While Potevio celebrates its export successes, The Register suggests the new company might perhaps be a little inward-facing as CETC made the USA's "thou shalt not invest in this military-linked Chinese company" list and the world tends to be a little wary of 5G from China.
SASAC hasn't said just what it expects the combined companies to deliver, but Hao Peng gave all State-owned enterprises the goal of growing faster than the national economy, improving profit margins, boosting R&D, and enhancing employee productivity. ®