This article is more than 1 year old
Splunk junks 'hanging' processes, suggests you don't 'hit' a key: More peaceful words now preferred in docs
Biased terms can't be 'grandfathered' in either – that's also on vendor's list of language best avoided
Analytics vendor Splunk has followed up on its 2020 decision to stop using the terms "master" and "slave" with a new guide to writing "unbiased documentation".
Splunk's style guide offers five points to understand if a term "shows unconscious bias or harms a marginalized or underrepresented group":
Don't use words that diminish the historical or current situations of others. For example, use "peer" instead of "slave".
Don't use words that place a positive or negative connotation on color, race, or people. For example, write "deny list" instead of "blacklist".
Don't use words that imply otherness or that exclude a group. For example, use "built-in" instead of "native".
Don't use words that harm, degrade, or insult anyone or any group, whether it be mental, physical, sexual, functional, or criminal. For example, use "placeholder data" instead of "dummy data".
Don't use words that imply elitism or a position of power. For example, say "primary" instead of "master".
The guide also offers a list of alternatives to biased language. Among the entries The Register has not spotted on other lists are:
| Biased word or phrase | Use this language instead | Type of bias |
| --- | --- | --- |
| Abnormal | Atypical, not typical | Ableist, disparaging |
| Dummy data | Placeholder data | Disparaging |
| First-class entity | Top-level entity | Divisive |
| Grandfathered | Exempt | Gendered language, racist |
| Hangs | Stops responding, freezes | Insensitive, violent |
| Hit | Click, enter, tap | Violent |
| Illegal characters | Special characters | Disparaging |
| Native | Built-in, fluent | Divisive, disparaging |
| Suicide mode | Time until restart | Insensitive |
Splunk is far from alone in seeking to change the language it uses in its documentation. In responses to 2020's Black Lives Matter protests, GitHub, OpenZFS, and Apple all made changes, the latter even warning that some APIs could behave differently because of its changes.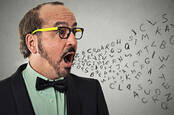 VMware to stop describing hardware as 'male' and 'female' in new terminology guide
READ MORE
The Linux Foundation, Cisco, Red Hat, IBM, and others eventually joined a new Inclusive Naming Initiative that has in recent days started to establish working groups.
The Register has viewed meeting invitations to the Initiative's get-togethers. Most take place at times that will work in North America and Europe but are often deep into the evening in Asia – the home of two thirds of humanity, including India which has the world's second-highest national population of English speakers. ®