This article is more than 1 year old
After spending $45bn on 5G licences, Verizon tells customers to turn off 5G to save battery life
You've just got to have 5G... except when you don't
US telco Verizon is advising customers to not access its 5G network –  for the sake of their phone's battery life – mere days after spending $45bn on new radio spectrum.
In a since-deleted tweet posted early on Sunday morning, Verizon said: "Are you noticing that your battery life is draining faster than normal? One way to help conserve battery life is to turn on LTE. Just go to Cellular > Cellular Data Options > Voice & Data and tap LTE."
A phone using the latest connectivity tech would automatically switch between 3G, LTE, and 5G depending on what's available at the time. What Verizon suggests here would see customers explicitly direct their phones' nework to use LTE, even if 5G is available.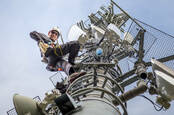 3G ain't totally dead yet: Verizon pushes back cut-off plans to some unspecified future date
READ MORE
Verizon is correct in saying 5G is a power-hog. The exact amount varies from handset to handset, but some benchmarks we've seen show a 12 per cent increase in battery consumption on the 5G-capable iPhone 12, compared to the previous LTE-only version.
To mitigate against that, phone vendors have started making devices with ever larger batteries, as well as faster wired and wireless charging. It's not uncommon to see phones with 5,000mAh batteries. Meanwhile, charging speeds of 45W and above are starting to become more routine.
Still, it's an odd talking point for a company that just spent the combined GDP of Bosnia, Armenia, and Albania to buy 3,511 spectrum licences, which will be used to further its nationwide 5G rollout.
We've dropped Verizon an email to ask for comment. ®