This article is more than 1 year old
Apple faces app store payments fight in Arizona, Throttlegate suit in Portugal
Beachheads open up on both sides of the Atlantic
Apple is facing a fresh round of battles on both sides of the Atlantic over its App Store and iPhone policies.
First up, Arizona lawmakers are considering a proposal that would allow developers to use third-party payment platforms for in-app purchases on Apple's App Store.
If it passes, Apple and Google - along with other app store owners – would also have to eschew taking a cut.
The legislation – which is an amendment to House Bill 2005 - bears a striking resemblance to a similar rule rejected by lawmakers in North Dakota last month. Per the language of the text, the amendment would apply to any "digital application distribution platform" with over one million cumulative annual downloads from Arizona residents.
Unlike the North Dakota bill, it falls short of forcing Apple to allow alternative app distribution, although it includes a similar prohibition against retaliation by app stores against developers.
According to Protocol, Apple and Google have both started lobbying efforts against the amendment, with Cupertino deploying its top corporate schmoozer Rod Diridon, as well as the former chief of staff to Republican Arizona governor Doug Doucey.
The publication quoted the amendment's author, Representative Regina Cobb, as saying: "We went through a very difficult weekend where Apple and Google hired probably almost every lobbyist in town."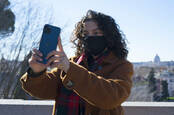 Apple slapped with €60m lawsuit from Italian consumer rights org for slowing down CPUs in old iPhones
READ MORE
In an op-ed published in the Arizona Capital Times, Cobb framed the fight as a David versus Goliath battle, with ordinary entrepreneurs and consumers pitched against rapacious corporate behemoths.
"Apple and Google have a monopoly on how you download apps to your phone. Because of that, for any app that offers digital services like games or music, you have to pay through Apple or Google's monopolistic payment processing system," she wrote.
"You have to use their system and their payment processor, and then they tax you for it. Small app developers have to absorb the cost and struggle to survive or pass the tax onto their consumers."
While some may find the overt process of lobbying distasteful, Cobb's amendment was spurred by a lobbyist for the Coalition for App Fairness, a trade group that has waged a protracted war against Apple's ecosystem policies for some time now. The coalition includes Spotify, Epic Games, and Tile, among others.
Epic is notably embroiled in its own legal battles with Apple, which booted the firm from the App Store last year after it introduced its own payment system to Fortnite.
Although Arizona is a relatively small state, passage of the amendment would set precedent, and could see other states swiftly follow suit. Similar legislation is being considered in Hawaii, Minnesota, and Georgia, all spurred by action from the Coalition for App Fairness.
App store transactions have long been a money-spinner for Apple, which charges between 15 and 30 per cent on each transaction. By contrast, Stripe would charge customers 30 cents plus 2.9 per cent for each successful card transaction, and offers custom deals for larger customers processing high volumes of card payments. That's roughly in-line with the fees charged by PayPal for card processing services. A potential influx of competition would force Apple and Google to lower their rates, or lose custom.
Although the aforementioned North Dakota bill was resoundingly rejected across partisan lines, HB2005 appears to have a decent prospect of passage. It has passed both house readings, as well as various appropriations and rules committees. It has not been voted on, however, and would need approval from the Senate and governor before becoming law.
Closer to home
Separately, Apple is facing scrutiny closer to European shores, with a Portuguese consumer group Deco Proteste filing suit against Cupertino over allegations it built planned obsolescence into the iPhone 6 and iPhone 6s series.
The issue hinges on Apple's decision to throttle performance in older models in order to limit battery consumption. Lithium-ion batteries degrade over time, especially with repeated charge-discharge cycles. By hamstringing the phone's processor, Apple was able to extend battery life, albeit at the expense of day-to-day use.
Apple argued this was to extend the lifespan of its phones. In a statement sent to The Register at the time, the firm said: "Our goal is to deliver the best experience for customers, which includes overall performance and prolonging the life of their devices. Lithium-ion batteries become less capable of supplying peak current demands when in cold conditions, have a low battery charge or as they age over time, which can result in the device unexpectedly shutting down to protect its electronic components."
Deco Proteste disagrees, and in its suit argued the strategy had the opposite effect, and incentivised punters to upgrade early. The group has said affected consumers should receive a pay-out equivalent to the cost of a battery replacement, as well as 10 per cent of the phone's purchase price. This would be equivalent to €7m (£6.05m).
Throttle-gate continues to be a major headache for Apple. Last November, it settled with 30 US states for the princely sum of $113m, although this doesn't mean an acceptance of fault. Separately, in January of this year, an Italian consumer rights group filed a €60m (£53m) suit over the same concerns. ®