This article is more than 1 year old
The Great Borkish Breakfast: I'll have a cup of tea, a sausage roll and a side of bork, please
Microsoft's OS might be time-expired, but the pastry is, well, far too edible
Bork!Bork!Bork! While the French may project their borkage as art onto the wall of a Lyon tunnel, Brits seem to prefer theirs glaring down balefully from a screen in a sausage roll emporium in Yateley.
Spotted by Register reader Darren, the screen is usually found displaying breakfast treats like bacon rolls or hot beverages for a price that would make any local artisan coffee house weep fair-trade tears.
The message is one that is becoming all too familiar nowadays. Windows 7 dropped out of support just over a year ago and Microsoft would really like IT staff to update it. After all, it's not as if those same IT staff have had much to do over the last year or so.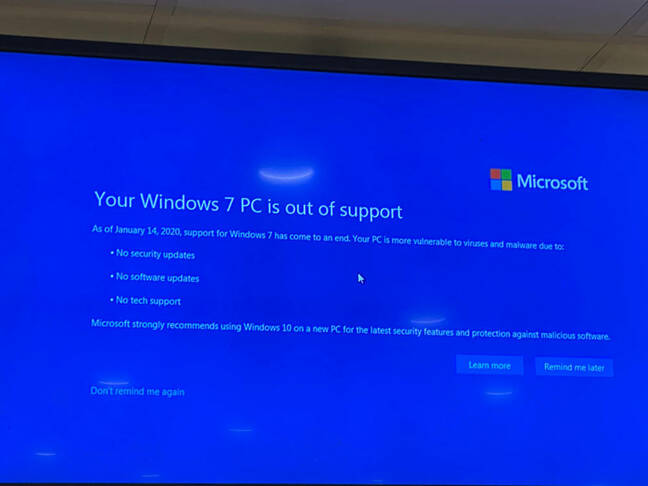 Behold the baked bork
Failure to update will result in no security fixes, no software updates and no tech support. Three things that - we imagine - a digital display more used to tempting punters with tasty treats is not overly concerned about. As for viruses and malware? The less said about that the better.
Sadly, there was no mouse attached to the screen to permit the clicking of one of the options on offer, leaving customers to ponder the price of a steak slice or sausage roll. It likely costs a bit less than ponying up the cash for the "Windows 10 on a new PC" that Microsoft is strongly recommending, although possibly it's accompanied by the same thought: "Should I really be doing this to myself?" ®