Huawei's sales and shipments may be shrinking like a snowball in the Sahara, but armed with App Gallery platform stats, it is trying to put on a brave public showing.
Figures flashed this week indicate the App Gallery has 2.3 million developers, up 77 per cent on a year ago, and the number of apps using the Huawei's HMS Core Android APIs have reached 120,000, up 118 per cent.
Monthly active users purportedly hit 530 million, said Huawei. Unsurprisingly, the majority of users were located in Mainland China, where the absence of Google's apps is less of a problem. Huawei claimed the app is used in 42 other markets in EMEA and Asia, where it has at least 1 million active users.
These figures came directly from Huawei itself, and it is not possible to independently verify them.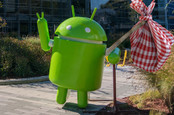 Pushed around and kicked around, always a lonely boy: Run Huawei, Google Play, turns away, from Huawei... turns away
READ MORE
Building an app ecosystem overnight is no small thing. Since May 2019, Huawei found itself unable to license Google's proprietary Android apps, including the Play Store, after former US pres Donald Trump placed the telco on the Entity List, which meant US suppliers wanting to sell stuff to Huawei needed US government approval. This sanction was extended in May last year.
This sorry situation gave Huawei no option but to invest $1bn in fleshing out the Huawei App Gallery, which included cash bungs to third-party devs.
Separately, Huawei his week bigged up its "Global+ Local" strategy, which sees it target smaller app developers, rather than usual big players. This has had some early successes, with Huawei attracting the likes of Korean messaging app LINE and music streaming service Deezer, with transportation apps represented by HereWeGo and Bolt.
This wasn't about giving smaller developers a leg up, but because Huawei's ongoing woes have made it radioactive to larger software houses. While it does have some big apps (Microsoft has some on the App Gallery), widely speaking, Huawei is a scary, toxic beast for major US firms.
Huawei has further tried to narrow the "app gap" with mainstream Android with Petal Search. Built by Huawei's Ireland-based subsidiary, Aspiegel Limited, the tool scours unofficial APK mirrors for apps that would otherwise be unavailable through the App Gallery. Examples include Netflix, Twitter, Zoom, Facebook, and WhatsApp.
This may be helpful for Huawei fanatics willing to take a punt on a Google-free phone, however it doesn't do much for Huawei's bottom line. A huge part of Huawei's app strategy is the underlying APIs included in HMS Core, which provide a framework for in-app purchases and advertising. Though providing easy access to external apps may help shift units, it's those integrations that will prove more lucrative for Huawei in the long term. ®