This article is more than 1 year old
ASEAN bloc's five-year ICT Masterplan was too big to be a winner, says final report
Good tech policy vital as Asian states climb out of the COVID-19 crunch
ASEAN, the trade and security bloc comprising ten Southeast Asia countries, has admitted its five-year ICT Masterplan could have been better-designed, didn't deliver on some goals, and lacked the policy underpinnings that would have improved its chances of success.
The plan aimed to shape ASEAN into a "united, digitally-enabled economy," between 2016 and 2020. A final review of that blueprint's lofty goals was issued last month.
That assessment rated the strategy outlined in the plan as "appropriately very broad given the ubiquitous, and yet still expanding, role of ICT in all of the economic sectors that drive growth and development."
The review noted that the blueprint included 66 projects, defined five outcomes and eight strategic thrusts, and outlined 16 key initiatives and 28 action points. Among the objectives were the creation of platforms to connect startups to potential private investors, the addressing of the digital divide, and the development of disaster risk-reduction frameworks.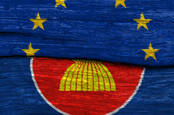 EU, ASEAN trade bloc plan closer digital ties that could make China's Belt and Road offering look rather boring
READ MORE
The final assessment said not all of those activities were worthy nor measurably successful. It therefore suggested "prioritising the more important initiatives and being selective in pursuing the corresponding projects to ensure their end-to-end completion, rather than engaging in a large number of projects with indeterminate outcomes" in future plans.
ASEAN's next such effort, the 2025 Digital Masterplan [PDF], should therefore incorporate "explicit, simple and clearer statements on governance and responsibility for project delivery, and emphasising a more incisive process on progress updates and providing resources where necessary, to ensure deliverables are completed on time."
The report also called for ASEAN member nations to introduce "appropriate regulatory structures to support the digital economy: this includes privacy laws, digital signature laws, data protection and incentives in place to support universal broadband access, mobile financial services, and e-commerce."
Other recommendations included:
A suggested shift from long-term blueprints to rolling three-year plans.
Embracing "industry 4.0: including disruptive technologies such as AI, robotics, blockchain, 3D printing."
Increasing the participation of women by emphasising STEM training for all early on in education, and adding more ICT training.
Windsor Place Consulting, the firm that wrote the final assessment, suggested its changes were especially important given the importance ICT is likely to play in post-pandemic economic recovery.
"ICT is of even greater significance moving into the 2020s than the most optimistic forecasts from 2016," it said. "Therefore, it is appropriate to be even more ambitious in formulating regional digital strategy going forward." ®