This article is more than 1 year old
Intel told by jury to pay $2.18bn to VLSI for ripping off two semiconductor patents
Chipzilla vows to appeal verdict
Intel was told on Tuesday to cough up $2.18bn in damages after losing a patent-infringement court battle against VLSI Technology, a Silicon Valley veteran rejuvenated by an intellectual property fight.
The jury in the case, unfolding in a US federal court in Waco, Texas, decided [PDF] Intel ripped off two patents that belonged to VLSI, and now the x86 titan must pay $1.5bn in compensation for one, and $675m for the other.
"Intel strongly disagrees with today's jury verdict," a spokesperson from Chipzilla told El Reg. "We intend to appeal and are confident that we will prevail." VLSI declined to comment, citing "pending litigation."
VLSI, founded in 1979 by engineers from Fairchild Semiconductor, was once famous for designing and making ASICs. It also formed Arm in 1990 as a joint venture with Apple and Britain's Acorn. After twenty years in business, VLSI was acquired by Philips Electronics, and is now part of that giant's chip-maker spin-off NXP. VLSI no longer produces any products, and exists essentially as a patent-owning shell, surviving simply to extract royalty payments.
It's funny how VLSI helped create Arm, ebbed away, and then rose from the grave to sue and extract billions from Intel, which is battling and has battled the Arm architecture on various fronts, from mobile to server silicon.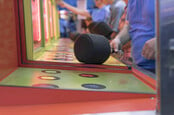 Fed up of playing Whac-A-Mole with network of SoftBank-owned patent holders, Intel hits court
READ MORE
The patent spat between VLSI and Intel has rumbled on for years. Chipzilla at one point was accused [PDF] by VLSI of infringing three patents – US 8,156,357, 7,523,373, and 7,725,759 – however, it only has to pay out for two: $1.5bn for the '373 and the rest for the '759.
These patents describe techniques for scaling CPU cache sizes depending on the voltage available ('357), keeping track of the minimum amount of voltage needed to drive memory ('373), and controlling clock speeds ('759). VLSI accused Intel of using, without permission, these methods in its third-generation processor microarchitecture code-named Ivy Bridge, and its more recent sixth-generation Skylake.
The '373' and '759 patents have changed hands over the years, with one belonging to SigmaTel, which was bought by Freescale, which was bought by NXP, and the other also belonging to Freescale and then NXP. They ultimately ended up in the hands of NXP's patent enforcer VLSI.
Intel's lawyers tried to argue that it was being unfairly pursued by an entity using off-the-shelf chip patents to extract billions from its bottom line, at least some of which would be kicked up to NXP.
In its lawsuit, meanwhile, VLSI said it "is informed and believes, and thereon alleges, that Intel actively, knowingly, and intentionally has induced infringement of the [patents] by, for example, controlling the design and manufacture of, offering for sale, selling, supplying, and otherwise providing instruction and guidance regarding the above-described products with the knowledge and specific intent to encourage and facilitate infringing uses of such products by its customers both inside and outside the United States."
To put this all in context, Chipzilla banked a $21bn profit in 2020, according to its latest financial report. Intel's share price was down 2.61 per cent, and NXP Semiconductor's was similarly down 2.69 per cent, at the time of writing, though the day was generally not great for the stock market. ®