This article is more than 1 year old
The wrong guy: Backup outfit Spanning deleted my personal data, claims Cohesity field CTO
One warning email.... then three years of backup gone in a flash, says storage exec
Cohesity field CTO Chris Colotti has said that Kaseya Spanning eradicated years of backup data belonging to him after he unwittingly breached a usage limit for an account that was supposed to have no pre-set limits, and then didn't upgrade his plan within a five-day period.
Writing yesterday in his personal blog, Colotti revealed that "Spanning Backup simply DELETED all my backups from the last 3+ years," exhibiting what he termed to be "horrible stewardship of the data" and "process failures."
"This is a personal horror story," he said in a heavily caps-locked blog, "What I came to find out later about what they did to my data, and their EULA has been nothing short of maddening."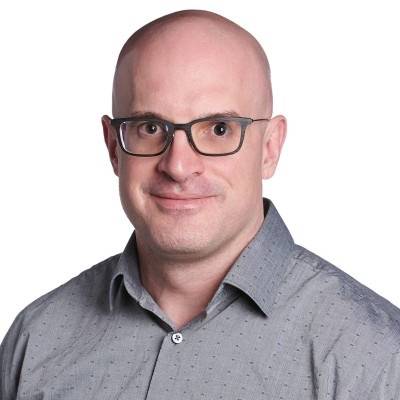 Chris Colotti
Colotti said he used Spanning for more than 36 months to store "my personal data and the data of my wife's small business," for Google's G Suite. He said his complaint had "nothing to do in any way with my day job working for another data protection vendor."
Spanning Backup for G Suite costs $48 per user per year and claims to provide "unlimited storage of all your G Suite data."
Colotti said he'd renewed his Spanning account on November 12, 2020 but found his backup data had been deleted when he tried to login on February 18 this year. He opened a support ticket.
Spanning support staff, meanwhile, said the company had sent him a warning email about excessive capacity usage on October 22, 2020. He said he never saw it, as "it looked just like most other messages from them I got weekly or monthly."
His annual renewal was accepted on November 12 but then all 36TB of his backup data was deleted on November 28 with no emails about the deletion, he claimed.
Colotti wrote: "There was NO other notifications ZIP, ZERO, NADA! In fact they took my money for renewal AFTER the warning and BEFORE the data was reaped, and their process had not [sic] other notifications I mean how screwed up is that?!"
Spanning EULA
Colotti examined Spanning's End User License Agreement [PDF] (EULA) and found it applies a restriction to the "unlimited storage" claim, as our highlighting of the EULA's section 4 text shows: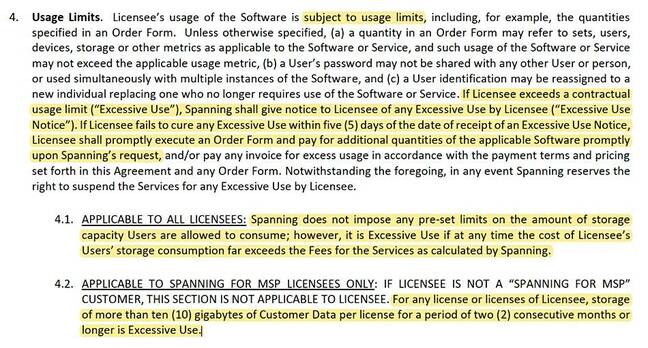 Click to enlarge
Customers backing up more than 10GB per month for two months are deemed excessive users and have a five-day period after receipt of a mailed alert to pay for the excessive usage. This is despite section 4.1 declaring: "Spanning does not impose any pre-set limits on the amount of storage capacity Users are allowed to consume."
It seems Colotti had 36TB worth of backup, which likely falls under the category "storage consumption [that] far exceeds the Fees for the Services as calculated by Spanning." The fee was $48/year.
Had they signed up with the Business Standard tier for Google Workspace/G Suite, for example, they'd have received 2TB of cloud storage for $144.
Colotti's blog continued: "Don't tell people there's no limit… when there really is, just state it and move on. Don't be shady as shit, just state it and ALSO state the cost for more! This is not news to anyone, but sucking people in for $4/month/user then pulling this crap is unacceptable." (His emphasis.)
Colotti went on to attack what he described as Spanning's "classic bait and switch. They pull you in with a $4/user/month price claiming no limits but when you hit one they want more money… I even tagged the CEO of Kaseya on LinkedIn, with no response, which I am not surprised. Fred Voccola should be ashamed as shit of doing this to even a small business."
He added that Spanning had made "no viable offer" of compensation or retribution for the "three years of lost data."
Kaseya's SVP for corporate marketing, Dana Liedholm, told us: "We are actively looking into this customer's allegations and are unable to comment at this time. Our customers are our top priority, and we remain committed to their success."
Kaseya typically sells IT management products to MSPs and medium-size on-premises IT shops. The company acquired SaaS backup service Spanning in October 2018. ®