This article is more than 1 year old
Now that we're emerging from COVID-19 hell, who's ready for some on-prem IT, asks on-prem IT giant HPE
Demand will increase, says CEO, as HPC chief heads for the exit
Hewlett Packard Enterprise says it is now seeing signs that biz customers are planning to update their on-premises infrastructure as the world slowly recovers from the COVID-19 pandemic... not that this came in time to save its latest quarter.
The soon-to-be Texas-headquartered corporation yesterday released its financial figures for the three months to January 31 [PDF]: revenue shrank six per cent year-on-year to $6.83bn though there were some positive signs.
"Order linearity was steady and consistent throughout the quarter," said CEO Antonio Neri on a conference call with analysts, "which gives us the confidence that we will see gradual continued improvement in that demand. And it's not one business. I think it's across all businesses.
"Obviously, we're all watching the trends with COVID. But I think customers realize that this is the year they need to make the investments to digitize everything in the company."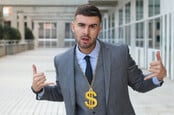 Selling hardware on a pay-per-use or subscription model is a 'lie' created by marketing bods
READ MORE
Customers snapped up PCs and cloud subscriptions that helped their employees navigate various work-from-home orders in 2020. HPE and other infrastructure hardware rivals didn't catch this wave in quite the same way as, say, Azure, Amazon, Google, and laptop makers did.
HPE's strategy for sustainable revenue growth, something that has eluded the manufacturer since its 2015 split with the HP PC business, is based on selling products as-a-service, and edge-to-cloud computing. Back in 2018, just five per cent of HPE's portfolio was sold as-a-service though it wishes to convert its entire business to one that sells stuff on a consumption basis by next year.
With this aim in mind, HPE's annualized revenue run rates as of its fiscal Q1 had grown 27 per cent on the year earlier to $649m. The vehicle HPE is using to convert more product sales into contracted services is known as GreenLake.
Drilling down further into the latest numbers, the Compute division reported revenue of $2.99bn, down 1.4 per cent. People are buying fewer servers and HPE is trying to get more to sign up to managed services contracts. The unit handling supercomputing, aka HPC, and mission critical servers fell 9.1 per cent to $762m.
Neri described HPC as an "inherently a lumpy business due to the timing of deals." HPE has invested in a number of incumbents including Cray and SGI.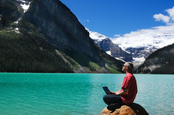 HPE sees itself 'delivering supercomputing-as-a-service to the masses' as it chucks HPC chops into GreenLake
READ MORE
"We remain very confident in this high-growth segment based on our backlog of our awarded business, which now exceeds well over $2bn of exascale contracts and a robust pipeline of multimillion dollar sized deals," added Neri.
The leader of the HPC business at HPE, Peter Ungaro is leaving the company but first he'll complete a six-month consulting term starting on March 1, according to an SEC filing last night.
Storage revenues were down 4.7 per cent to $1.19bn, mirroring declines at peer Dell. HPE's Primera business grew by tripe digits and is almost larger than 3PAR now, the CEO said. Financial services down flat at $860m.
The Intelligent Edge subsidiary, where HPE is throwing much of its R&D muscle, was the one part of the IT giant to grow in Q1 on a year-on-year basis, up almost 12 per cent to $806m. This benefited from a full quarter's revenue contribution from the purchased Silver Peak business, which contributed to five per cent of this overall growth.
Neri said HPE took share in the campus switch and wireless LAN segments, and was able to "capture the high growth SD-WAN market opportunity" so customers can "connect all their edges and all their clouds in a fully automated and autonomous way."
The reduced sales resulted in reduced operating profits for fiscal Q1, falling to $222m from $348m. ®