This article is more than 1 year old
Telecoms shack in the middle of Scotland put up for auction at £7,500
No broadband or bedroom though, so you'll have to sign up for sats or build your own
Stuck in a flat in London, Tokyo, New York or another less lovely urban area for the pandemic?
Even two hours on a Pendolino from London's Euston station brings you to a wonderland of cheap(er) beer, affable people unafraid to strike up conversation with strangers, and the undeniable benefit of cheap housing.
To illustrate that point – although much, much further up north – for the price of two months' rent in London's Zone 1, about 2.5 months rent in Tokyo, or six weeks' worth in San Fran, you can buy* your very own telephone exchange in the middle of Scotland's rugged west coast.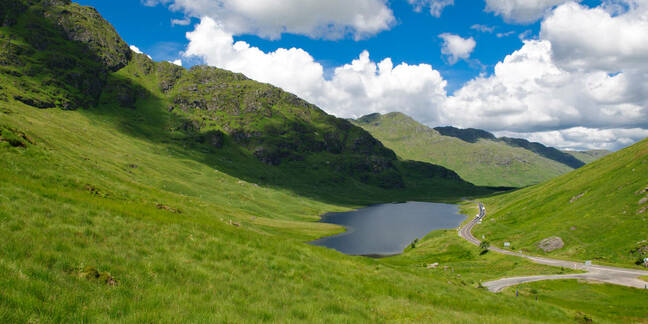 Road A83 in Loch Lomond and Trossachs National Park, Scotland
The shack itself is located on the A83 – a 99 mile (158.2 km) road that stretches from Loch Lomond to Campbeltown – and is currently going under the hammer with a starting price of £7,500.
The desolation of it is a major selling-point for some. It's literally a small parcel of land, with a single-room stone building, surrounded by nothing but rolling forest. Forget about local amenities, unless you're willing to take the drive to the nearby hamlet of Cairndow, which boasts a restaurant and a small convenience store.
It's not the biggest place – it is described as having "zero" bedrooms – but then again: what's the difference between this and living in a mould-infested HMO above a kebab shop in Kilburn with several strangers? You'll have roughly the same amount of living space, and thanks to its seclusion, way more privacy.
For those with the upfront cash, the auctioneers, Future Property Auctions, note the site has "excellent development potential" subject to planning permission.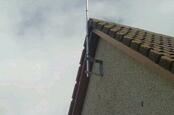 Diary of a not-spot: Vulture hack vows, I will never pay BT again!
READ MORE
Ironically, despite being a former telecoms installation, the site is unlikely to benefit from speedy broadband. The nearest settlement appears to lack even FTTC, with a quick search on a broadband comparison website showing ADSL-level speeds. Still, for less than the price of your monthly Travelcard, you can get hitch a ride on one of Elon Musk's Starlink satellites, which promise decent speeds and halfway-tolerable latencies.
Alternatively, you could build something yourself, like a certain former Vulture who lived in broadband-starved Scottish Highlands once did (see: "Diary of a Not-Spot").
Maybe this isn't as cheap a prospect as once thought. If you want the luxury of indoor plumbing and power, you'll need to splash some cash on some builders. A decently powerful generator - and car - would also be sensible. The land sits on a notoriously steep stretch of road. So notorious, in fact, that one of the flatter parts is called Rest and Be Thankful.
Let's assume a (totally uneducated) ballpark figure of £100,000. But to paraphrase a certain credit card company: Getting away from it all? Priceless. ®