This article is more than 1 year old
What happens when cancel culture meets Adolf Hitler pareidolia? Amazon decides it needs a new app icon
Dodgy doppelganger not the first, won't be the last
Logowatch Adolf Hitler killed himself in 1945 after being responsible for the death of millions as the leader of Germany's Nazi party. He had a small rectangular mustache.
Seventy-five years later, e-commerce giant Amazon has had to change its mobile app's new logo that featured its trademark smile and a jagged blue ribbon on top a brown rounded rectangle to a grin with a blue ribbon folded in the corner on top a brown rounded rectangle because – according to people on the internet – it looked like the German dictator.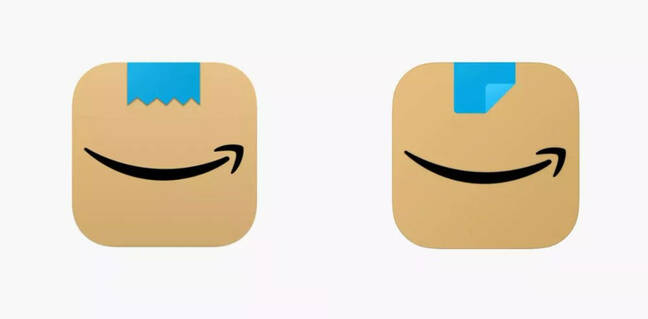 The offending icon, left, and the new one, right ... Click to enlarge (Source)
This is a phenomenon called pareidolia, defined as "the tendency to perceive a specific, often meaningful image in a random or ambiguous visual pattern." It's why some of us see Jesus in toast. Or a Man in the Moon. Or snaps of clouds featuring some improbable shape: usually a face but sometimes an object that reflects a current societal focus, like sudden appearances of dragons in cloud formations when TV smash-hit Games of Thrones was at its zenith.
But nothing says 2021 like forcing an individual or corporation to apologize or make a change because a group of people collectively decide to get offended about something and stir themselves up into a temporary frenzy before directing their ire at a specific target.
And that it seems is what happened to Amazon and its new app icon. But Amazon is Amazon because it is so tightly attuned to customer wants and needs, and so it got ahead of the curve on this one.
This story is therefore a postmortem of a cancel culture take-down that didn't even take off: people were about to become offended but Amazon bypassed the unpleasant ganging-up part of things and moved straight to the resolution: getting rid of the jagged blue line and replacing it with an inoffensive graphic of a sticker with its corner folded over.
Other problematic logos
This is, of course, far from the first logo change due to perceived offense although it may be the most ridiculous.
Then there are also logos that have proved controversial because they are just plain terrible: the best example probably being the hideous London 2012 Olympics logo. Tokyo's 2020 logo had to be canned after a plagiarism row.
Another example is when British Petroleum (BP) came out with a new green-colored flower as its logo. People got pretty annoyed given that it's harder to imagine anything further from the company's reality of pumping crude oil out the Earth.
People also didn't like the Welsh fried chicken brand Dirty Chicken's new logo when it took the cock aspect a little too far and used the "d" and "b" to, well, represent human anatomy as well as a chicken's head. Shield your child's eyes.
But Amazon's Hitler icon – which, again, looks nothing like Hitler – is a standalone in the increasingly crowded field of shady logos by dint of the fact that in six months no one will remember why it had to be changed. It's also worth pointing out that it's just not a very good logo. ®